What's a fork-in-the-road dish? This is the idea that you can separate out some of whatever you are making and make a simpler version for picky eaters, then continue on your merry way and gussy up the rest of the dish with gutsier ingredients, herbs, seasonings, etc. to give it more oomph for the grownups and adventurous eaters.
There are few things that don't get better with whipped cream (or "mit schlag", as they say in Germany and Austria). And at this time of year there are plenty of sweet items waiting for a dollop of the good stuff to elevate them into that holiday nirvana.
A few tips for great whipped cream every time:
1) Make sure the cream is very well chilled.
2) Make sure your bowl (glass or metal) and your mixers are very clean (and if you have the time and forethought, chilled).
3) Make sure you know when to stop beating the cream. Stop when you get just to the consistency you like (soft peaks droop gently over when you lift the beater from the cream, medium peaks fold over, but not as dramatically, and firm peaks stand up nice and tall). Note that it take only a few seconds to go from one phase to another, and consequently from firm peaks to over-beaten and clumpy, so exercise restraint.
To make whipped cream, pour 1 ½ cups of chilled heavy or whipping cream into a large chilled bowl, preferably metal (either the bowl of a standing mixer or a mixing bowl, and use a hand mixer). Beat at high speed until it starts to thicken, then add 1 teaspoon of pure vanilla extract and 3-4 tablespoons of either confectioners or superfine sugar, and continue to beat until soft peaks form. You can also do this by hand with a whisk, though it's a labor of love. Serve immediately, or store covered in the fridge for up to 6 hours.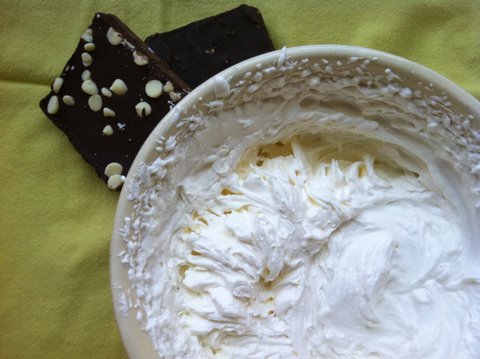 6 Ways to Flavor Up That Whipped Cream:
1) Coffee: Add 1 ½ to 2 teaspoons instant coffee or espresso powder as you beat it (you will probably need at 4 tablespoons of sugar to balance out the strong flavor of the espresso power. If you can stir the espresso powder into the cream and let it chill for one hour prior to beating, it will allow the powder to better dissolve). Great on cheesecakes, chocolate desserts or to top a cup of espresso or coffee.
2) Cinnamon: Add ½ to 1 teaspoon cinnamon to the whipped cream as you are beating it. Great on pies, and apple, pear and other fruit desserts.
3) Orange: Add ½ to ¾ teaspoon finely grated orange zest to the whipped cream as you are beating it, and reduce the amount of vanilla to ½ teaspoon. Add an optional teaspoon of Grand Marnier or other orange liqueur. Great on chocolate and vanilla desserts and desserts with citrus.
4) Booze: Add 2 tablespoons of any liqueur you like as you are whipping the cream, such as Kaluha or Bailey's Irish Cream, cognac or brandy, bourbon, cassis, framboise, Amaretto or Frangelico. Great on nut and chocolate desserts, and especially desserts that have a flavoring that gently reflects or compliments the flavor of the liqueur.
5) Ultra vanilla: Add another teaspoon of vanilla extract, or the seeds from ½ a vanilla pod. Great on everything.
6) Mint: Skip the vanilla extract and add 1 teaspoon of pure mint extract. You can also fold in 1 teaspoon finely minced fresh mint leaves as the end, which adds pretty green flecks. Great on chocolate desserts.