Gorgeous In Grey is a must-read fashion and lifestyle blog with a fun, snappy and engaging voice, courtesy of its silver-haired founder, Ty Alexander.
Her unique grey hair was the inspiration for the blog's title. And before you start asking for the name of her colorist: There isn't one. Every single strand of her marvelous mane is natural. Tres chic!
Alexander, a self-proclaimed "sequin obsessed" blogger, started the website in May of 2010, and it has rapidly built a large readership and a strong presence in the blogosphere.
"I've always been interested in fashion and beauty. Plus, I'm nosy and like to talk to people," Alexander told HuffPost BlackVoices. The perfect combination for an informative and entertaining blogger, if you ask us!
Much of the blog's success is based on Alexander's mission to provide not only fun fashion and beauty news, but to show curvy girls like herself that they can be fashion forward, too (a sequin skirt is strongly recommended). And when Alexander isn't moonlighting as the editor-in-chief of Gorgeous In Grey, the 35-year-old Brooklynite is a full-time child support analyst and freelance journalist.
From Fashion Week reviews to her witty, signature "Fatshion" features, you'll want to bookmark Gorgeous In Grey instantly. If that's not enough, Alexander considers herself quite the "tweetologist," so she's definitely worth adding to your Twitter feed (@OhMyTy).
Check out our Q&A with Alexander and a slideshow of her must-have fashion and beauty items of the season.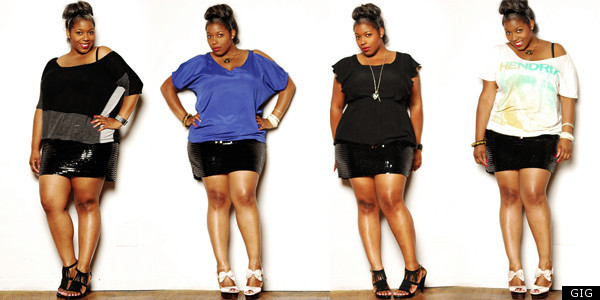 Who are your biggest style influences?
Right now I am swooning over Jill Scott (or maybe her stylist). Mainly because she's a sequin lover like me. But she's always been clear about what looks great on her body and has never been afraid to try new trends.
What is your go-to, fail-proof outift?
Leggings, off-the-shoulder top (with some quirky text) and Converse sneakers for the day, wedges at night.
Top 3 tips for dressing a curvy figure?
1. Find a great bra that fits and buy tons of them (in case they stop making them).
2. Spend your money on quality shoes. No disrespect to Payless, but they are not made for women over 150 lbs.
3. Simplicity is important. Don't overdo it with the leopard dress, shoes and bag.
What do you splurge on?
Accessories!
What piece of clothing should every woman own?
Blazers: black, white and a color of your choice.
Favorite blogs or Tumblrs?
AfroBella, The Curvy Fashionista, LoveBrownSugar and The Fashion Bomb are my daily reads. Not necessarily in that order.
How do you spend your weekends?
I'm either hanging with my boyfriend or watching TV with my best friend. And even when I'm hanging with my boyfriend, we're watching TV or a movie. I live a relatively boring life on the weekends.
What is you favorite pair of jeans?
Forever21 Plus skinny jeans. They hug all the curves and hide the rolls.
What music are you into right now?
The entire Watch The Throne CD is on heavy rotation. I am obsessed with it.
What is the one item in your closet that you will never get rid of?
My sequin skirt from Forever21!
Favorite beauty product?
Last year I was determined to try the red lip trend. I got lucky and found Red Revival by Revlon. It's an amazing matte red lipstick that stays with me even after dinner and drinks.
Favorite hair products?
Depending on what style my hair is in, there are two products that I always have stocked in my bathroom cabinet. Shea Moisture Curl & Style Milk for my natural curly hair styles. Mizani's Anti-Humidity Spritz for my tamed, straight hair styles. Both products smell amazing and give me the ability to touch my hair without leaving any nasty residue on my hands.
Do you have a fashion mantra?
"In order to be irreplaceable, one must always be different." That's one of the many mantras to live by from Coco Chanel. I believe that fashion is about finding who you are, and it's a journey that might last forever. Have fun with it!