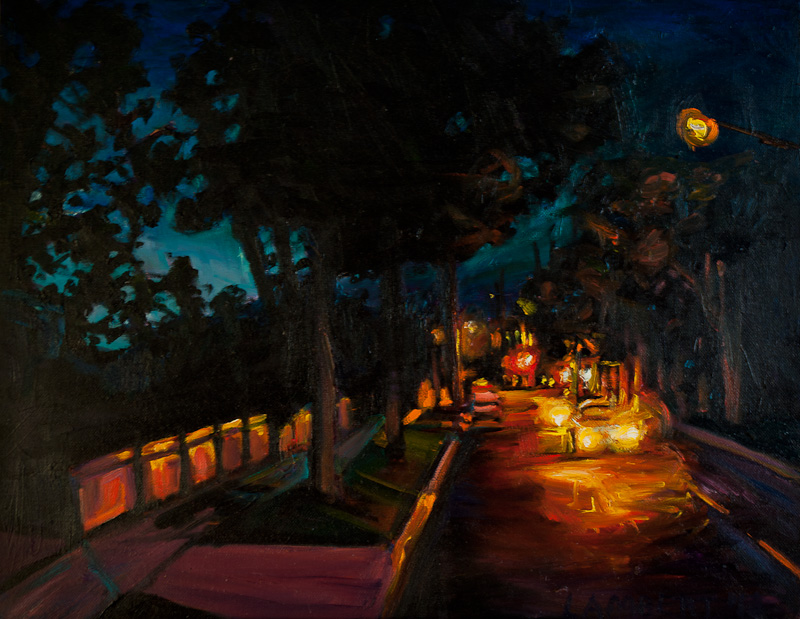 While tweens flock to see the latest installment of the vampire saga Twilight this weekend, a humbler Twilight opening will be happening in a studio in Highland Park. The Twilight Paintings by young artist Bonnie Lambert will be shown at the studio of artist Margaret Garcia. Garcia is Lambert's teacher. Lambert is "young" in her painting career, but at 61 she's far from naïve. She, like many baby boomers, is wondering about her future. This exhibit marks a transition for her.
In her life, she's been an actress, a costume designer, fundraiser, museum tour guide, antique dealer, desktop publisher, and graphic designer. She's taken many paths in her life, and she's going to take another one as painter.
This Twilight series, a collection of 19 paintings, explores that ephemeral moment between day and night. Bright yellows and oranges surrender into darkness. Lone roads and empty restaurants are a recurring theme. There are hardly any people in her work. If they exist, they're mostly blurs. The paintings speak of change, desolation, and choices.
1. What inspired you to develop these Twilight Paintings?
The series started with an experience a couple of years ago. My husband and I were exploring antique shops in cute little City of Orange. It was getting late. We were crossing a street. And suddenly it was the "magic hour" and the sky exploded with color. We both stopped in our tracks, speechless at the intensity of the color. I took out my little digital camera, and snapped, snapped, snapped.
2. What are you trying to say? What themes were you hoping to explore?
I'm a relatively new artist. I have really no "theory" or formal technique. For me the true teacher was what was right in front of me in all of its simple beauty. I tried to see as much color and as many shapes in their own relationships as I possibly could, trying to leave out judgment or interpretation--just see what I see, powered by my love of the image, and get it down on canvas. At first it took me a long time to really "see," but it happened sooner and sooner the more I painted.
3. How does it feel to embark on a new career at this stage of your life?

I think I'll look back on this time as one of the most exciting and fulfilling of my life, and I've had a generous share of memorable moments. I'm older. I have nothing to lose. I'm not afraid of falling on my ass (couldn't have said that five years ago!). All of this is completely new territory and I'm welcoming whatever comes with open arms.
Twilight Paintings by Bonnie Lambert will show from Saturday, November 5 through Sunday November 27. RECEPTION: Saturday, November 12, 7-10pm. Artist will be present: November, 19, 7-10pm; Sunday November 20, 10am-5pm. All other times are by appointment only: 818-623-9379.
Margaret Garcia Studio, 4022 North Figueroa Street, Los Angeles (Highland Park), CA, 90065, 323-243-4513
Photos by: Martha Benedict