Traveled some in Great Britain? If so, you've probably encountered the toast rack, a small oblong stand with a serried rank of open-sided partitions between which pieces of toast can be stood upright, ensuring that they are stone cold by the time they reach you. As a culinary utensil, toast racks fall somewhere between the hand-held toast fork (late 17th century) and the electric toaster (early 20th century). Toast racks are commonly made of bent wire or cast ceramic or even plastic. But not this one. It's sterling silver.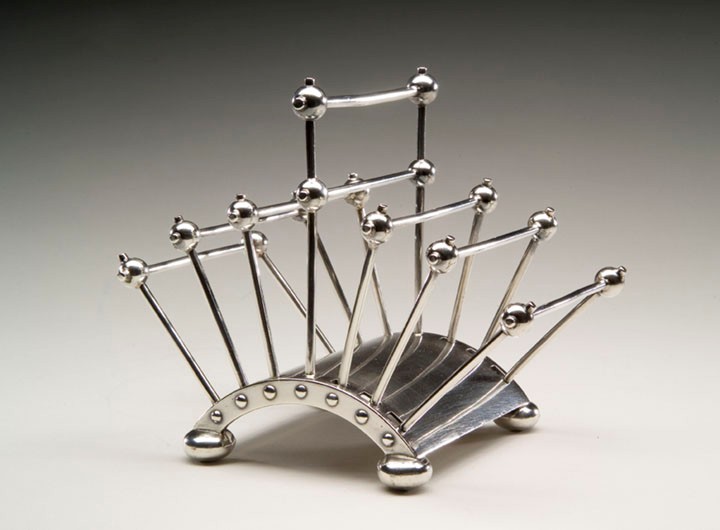 ARTICULATED TOAST or LETTER RACK, 1884-1885
Designer: Christopher Dresser (English, 1834-1904)
Manufacturer: Hukin & Heath, Birmingham and London
Silver
The Baltimore Museum of Art: Charlotte B. Filbert Bequest Fund. BMA 2006.84
In 1886, Oliver Wendell Holmes, a Bostonian man of letters widely published as the "autocrat of the breakfast-table," recalled window-shopping in London:
Bond Street, Old and New, offered the most inviting windows, and I indulged myself almost to profligacy in the prolonged inspection of their contents. I greatly admired some of [the inventive] Dr. Dresser's water-cans and other contrivances...
Among them, Holmes might have seen one of these toast racks. Christopher Dresser registered his design at the British Patent Office in 1881. Our example's London hallmarks include the letter "I" in a shield, indicating that it was made in 1884-1885, just before Holmes strolled down Bond Street. In some examples, the uprights that hold the toast are fixed firmly to the base. Ours are articulated. Set into a pair of small slots, each set of uprights can move slightly back and forth like a set of goal posts in a high wind. Thus, the rack accommodates a certain give and take between the dainty shard of melba toast and the hearty rustic slice, or a bagel, or even, for that matter, letters and overdue bills. (Some scholars believe the articulated racks belonged in the owner's study, not his dining room).
Recent books and exhibitions summarize how Dresser initiated modern product design in Europe by embracing rather than rejecting machine power. His impact was strong, particularly in forward-looking circles. By the turn of the twentieth century, Dresser was credited with designs for carpets, textiles, wallpapers, ceramics, furniture, glassware, lace, linoleum and, of course, metal work. In 1937, Nikolaus Pevsner illustrated one of Dresser's "water-cans" -- a brass and copper tea kettle, to be precise -- in The Architectural Review. This helped establish Dresser -- the first significant industrial designer in Victorian England -- as a harbinger of 20th-century modernism.
The BMA's toast rack takes the form of a miniature Japanese bridge. Dresser spent four months studying and photographing the arts and crafts of Japan. He got the offer to go east while attending the 1876 Centennial Exhibition in Philadelphia, where he also launched a line of wallpapers. He then accepted a commission to acquire a collection of Japanese artifacts for Tiffany and Company, New York. The first designer to actually visit Japan, Dresser recorded his travels in Japan, Its Architecture, Art and Art Manufactures (1882).
Dresser realized his ideas for the toast rack shortly after two avant-garde pictures by James McNeill Whistler -- "Nocturne: Black and Gold, The Falling Rocket' (1875, Detroit Institute of Arts) and "Nocturne: Blue and Gold -- Old Battersea Bridge" (1872-73, Tate Gallery, London) achieved international notoriety during Whistler's highly publicized suit for libel against John Ruskin, then the single most influential art critic in Europe. Hindsight tells us that the real litigants in the trial were representative art vs. abstraction, whose many modes would dominate the twentieth century. (Want more? Try Linda Merrill, A Pot of Paint: Aesthetics on Trial in 'Whistler v. Ruskin.' Washington, D.C., 1992).
Indebted to Japanese woodblock prints, Whistler's evocative Old Battersea Bridge is as Japanesque as Dresser's toast rack. Whistler would probably have refuted any association between his picture and Dresser's similarly arched (and similarly arch) toast rack. Yet the atmosphere of publicity and commerce in which Victorian artists labored invites us to consider how a handy home accessory resonates with cutting-edge paintings, despite the traditional Western separation of fine and decorative art. Walk through an 18th-century English landscape garden and you'll likely find a picturesque bridge in the Asian taste. You'll also see one in Claude Monet's flower-filled haven at Giverny. His arched Japanese Bridge became a favorite motif in impressionist paintings like "The Water Lily Pond" (1900, Museum of Fine Arts, Boston.)
We count Whistler and Monet among the first great modern painters. If Dresser is the first modern product designer, I wonder if we can tag Holmes as a proto-blogger? His Autocrat of the Breakfast-Table was serialized in magazines before being gathered into a book in 1858. The witty set of monologues delivered to fictitious guests seated around a boarding house table begins, "it is a capital plan to carry a tablet with you, and, when you find yourself felicitous, take notes of your own conversation." Today, many (but not all) would prefer an iPad -- yet we still look to the printed word -- be it journal, newspaper, magazine, book, or Internet blog -- to help us shape our read of the world around us.
I can imagine a most aesthetic Anglo-Japanesque table presentation that bridges the centuries: slices of white bread having the Miss Kitty emblem toasted into them before being arranged on Dresser's silver rack. Not going to happen -- the toast rack is in the museum; my virginal Miss Kitty toaster is still swathed in its original pearlescent pink and white packaging (I'm thinking of it as a potential investment in popular culture).
By the way, last time I was in Japan, upscale hotels catering to Westerners still served toast wrapped in a linen napkin, then placed in a small lidded basket, woven of split rattan with an elegant little sliver of bamboo tied on for a handle. Feels like you're getting a present. And the toast stays pretty warm.