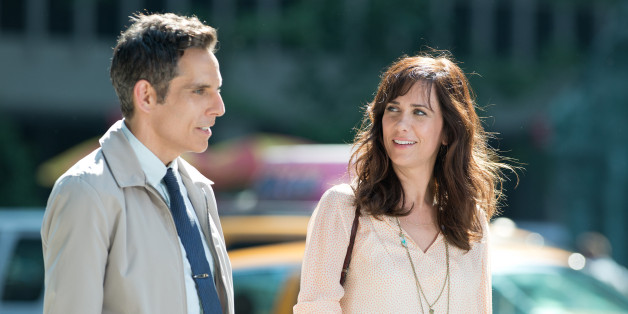 Twentieth Century Fox premiered Ben Stiller's "The Secret Life of Walter Mitty" at the New York Film Festival on Saturday afternoon, with a simultaneous screening held in Los Angeles for West Coast journalists and critics. The film, which Stiller directed and based on James Thurber's 1939 New Yorker short story, left the critical community divided like few releases thus far this year.
"The film's pleasures may be too minor-key and its pace too meandering to conquer the mainstream," wrote David Rooney for The Hollywood Reporter. "But audiences willing to tune in to its blend of surreal fantasy, droll comedy and poignancy will be rewarded."
"The Secret Life of Walter Mitty" stars Stiller as the title character, a LIFE magazine negative asset manager (a.k.a. photo editor) who retreats to day dreams to escape the confines of his mild-mannered life. After a corporate takeover puts the magazine on death's door (a vicious Adam Scott plays the film's main antagonist), Mitty is forced to live out his fantasies while hunting for a missing negative from the periodical's ace photographer (Sean Penn) that will be used for the final LIFE cover. (Steve Conrad's script takes Mitty from midtown Manhattan to Iceland, Greenland and even Afghanistan.) Kristen Wiig (as Mitty's literal dream girl), Shirley MacLaine, Kathryn Hahn and Patton Oswalt round out the supporting cast.
After the New York Film Festival screening, Stiller, Wiig, Conrad and production designer Jeff Mann and producer John Goldwyn participated in a Q&A session about "Walter Mitty," which was first turned into a film by Danny Kaye in 1947.
"I didn't want to attempt to do that," Stiller, who came onto "Walter Mitty" after it was in development for years, said about the Kaye version of the story. "What was exciting for me was that Steve took this idea [and kept] the spirit of the original story, and the character Thurber created, which is an obviously iconic character."
"The Secret Life of Walter Mitty" is out in theaters on Christmas Day.
Walter Mitty is a home run: commercial holiday picture and Oscar contender. Nyff
The secret life of Walter Mitty is a wonderful film. More mainstream than I thought it's be. Ben stiller needs to direct more.
This Walter Mitty movie is terrible. If you disagree and want to have a discussion about it, let's do it! Why not?
SECRET LIFE OF WALTER MITTY: Garden State for middle-aged office drones. visually playful Hallmark sentiment, so inspiring it can't inspire.
THE SECRET LIFE OF WALTER MITTY is kinda like if Kurosawa's IKIRU were remade as a 2-hour Super Bowl commercial.
Secret Life of Walter Mitty: Ben Stiller trying to ape the sentimentality + quirkyness of Wes Anderson, comes off as completely false #NYFF
I can't imagine there's much call for smug WALTER MITTY pans. It's middle-of-the-road filmmaking with a bit of ambition to it. It's okay.
Not feeling pull-quote-prone today, so there's this: I liked THE SECRET LIFE OF WALTER MITTY a lot.
I like the passion of Walter Mitty. @RedHourBen clearly poured a lot into it.
"The Secret Life of Walter Mitty": sweet, earnest, an Arcade Fire montage and Adam Scott as the year's best villain #nyff
THE SECRET LIFE OF WALTER MITTY ain't no ZOOLANDER. It was a disappointing film with so much product placement. #NYFF
THE SECRET LIFE OF WALTER MITTY: This schmaltzy conflict-free dramedy tries desperately to say something, but is surprisingly hollow. #NYFF
The Secret Life of Walter Mitty: absurdist humor highs don't rescue over-earnest lows. For all its fantastical elements, surprisingly tepid.
Requisite Secret Life of Walter Mitty review tweet: A sweet film w/a great soundtrack & beautiful cinematography. Nothing more, nothing less
#WalterMitty was okay. Pleasant, pretty, occasionally funny, but mostly just pointless. Weirdly conflict-free. #NYFF
#WalterMitty is a movie about a guy who's like, "hm, maybe I should do more stuff in life" and then he does. The end. #NYFF
The Secret Life of Walter Mitty - A let down. Fun & charming at times, but super cheesy. Comedy doesn't work, no emotion, I'm disappointed.
First thoughts on The Secret Life of @WalterMitty: Heart-warming & hilarious. Smiled throughout. It's the feel good movie of the year (★★★★)
"Walter Mitty" is a moving elegy for the heyday of magazines, as well as a sweet, funny fable about living to the fullest. #NYFF
THE SECRET LIFE OF WALTER MITTY- satisfying white guy wish fulfillment. Appropriately anthemic soundtrack. Loses a bit of steam as it goes.
WALTER MITTY is a warm, gentle, and almost-great movie. A touch precious, but impossible not to like. #nyff #criticwire
Walter Mitty is cute, fun, and super cheesy. Will play perfectly to mainstream auds at Christmas-time, but it's not much more
THE SECRET OF WALTER MITTY is a totally misdirected mess, often laughably so. And the first time I've ever disliked Kristin Wiig. :(
I really, really liked THE SECRET LIFE OF WALTER MITTY. A grand adventure. And good for Stiller with his pet project turning out so well.
I do feel WALTER MITTY will play better with people closer to 40 than people closer to 25.
Wow, I can't believe people have good things to say about that cloying claptrap.
If you can spot contrivances, cliches and hokeyness, you are cynical and apparently under 40. Lesson for today, thanks Twitter.
I would take the Twitter savagery about Walter Mitty w/ a grain of salt. Sweet movie, not made for the young male critic demo.
391 Comments