Exclusive: Yvonne Sangudi is a world-class singer, just ask former first lady Laura Bush, President Kikwete (Tanzania), or President Sirleaf (Liberia), who she's sung for on separate occasions. Yet, for over fifteen years, she worked mostly behind-the-scenes, learning from America's top record labels. It wasn't until she founded Éclat Media Enterprises, Inc. in 2012, that she took control of her career, and the spotlight. Now, she's poised to release the single, "Tanzanite", off her upcoming album, Defeated, and she's giving us a sneak peak at the song, the video, and her dream. Get ready.
A still from "Tanzanite." Courtesy of Sidus Records
What do you think? Include your thoughts in the comments. soundcloud.com/yvonnesangudi
Alex Schattner: What is the idea behind "Tanzanite"?
Yvonne Sangudi: Tanzanite is my debut single. I wrote it with Jens Gad (produced by Sammy Naja). It's about unleashing the gem of genius that you have inside, and letting it be heard by the Universe.
A: What can we expect to see in the song's music video?
Y: I wanted to have a very simplistic, abstract, bright, colorful African-inspired video. Expect to see lots of unique wardrobe pieces, which were inspired from my upcoming clothing line, and some very talented actors who did a great job, visually and stylistically, of conveying the message behind the song.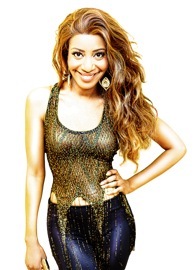 Photo courtesy of Sidus Records