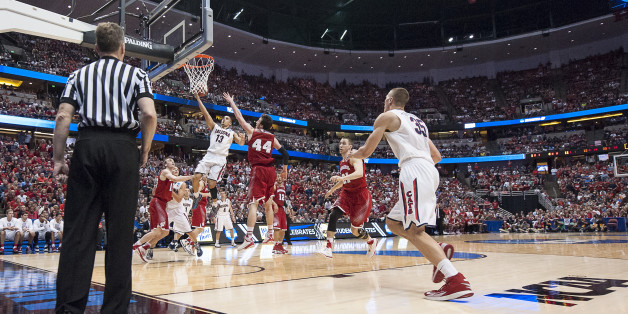 Nobody filled out an NCAA Tournament bracket that had Tony Greene advancing to the Final Four but that didn't keep him from being involved in a pivotal moment in the Elite Eight. Greene, a referee, called a controversial offensive foul in the final seconds of a thrilling overtime clash between No. 1 Arizona and No. 2 Wisconsin in the West regional final.
With Wisconsin clinging to a 64-63 lead in the final seconds of the overtime session, Greene whistled Arizona guard Nick Johnson for a foul as he drove for a potential go-ahead basket. Johnson, Arizona's leading scorer, drove toward the rim and made contact with Wisconsin's Josh Gasser with three seconds remaining. Greene determined that Johnson's push off warranted a whistle.
(Video via CollegeBasketballTalk)
The call seemed to change the moods of those following the exciting Elite Eight action on Twitter from #WOW to #WTF.
In an Elite 8 game??...in overtime?!.. On a contact play where it COULD BE off or def foul??..swallow the whistle & LET EM PLAY!!
And so it ended not with a bang but with a questionable Tony Greene push-off call
C'mon ref you can't call a charge in the last 5 seconds of the sweet 16. #NCAA
Can't wait to see if Tony Greene gets the Final Four assignment.
This just in: Twitter hates referees.
Arizona would actually regain possession before the final buzzer but would not get off another shot as Wisconsin held on for the win.
HAHAHAHAHAHAHA and people mad at me...
Tennessee's Jordan McCrae seemed less amused than Morgan.
Another terrible charge call killing a great game
A night earlier, Michigan and Tennessee were involved in another game that included a controversial offensive foul in a key moment. With No. 2 Michigan holding on to a 72-71 lead, No. 11 Tennessee had the ball and 10 seconds to find a potential game-winning basket. Following a timeout, the ball went to Tennessee's Jarnell Stokes. The 6' 8" Volunteers forward drove toward the basket and was bracketed by a pair of Michigan defenders. Michigan's Caris Levert reached in to poke the ball way. Morgan, who had planted himself in Stokes' path, fell to the court. With Morgan on the floor, Stokes was whistled for an offensive foul.
(GIF via @AceAnbender)
Tennessee had nearly erased a 15-point deficit before that call on Stokes halted the comeback bid. Nik Stauskas would subsequently add a free throw to close out Michigan's 73-71 win.
While a foul remains a foul regardless of the time showing on the clock, this crucial call also drew widespread criticism for being a dubious infraction at a key moment.
Reactions To Charge Call Against Tennesee
Whether it was questionable foul calls or lengthy reviews of out of bounds plays, two games that had previously embodied the best of March Madness seemed to end with the officials being discussed nearly as much as the players.
Comments