Attendees and bloggers are disappointed with the emerging, bipartisan consensus in Washington that the lawlessness of the Bush era can largely go unpunished.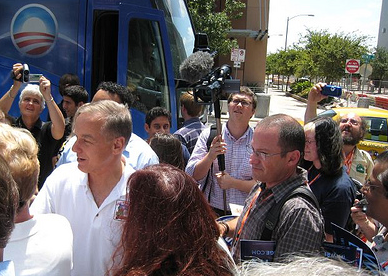 After emphasizing more investigations over actual accountability, Sunstein and John Dean faced pointed questioning at a packed panel on "The Next President and the Law." Mike Stark, a blogger who helped organize the spying protests within Obama's social network, asked why politicians should ever be above the law. And Hunter, a popular "front-page poster" on DailyKos, captured the mood in a long post kicking off the conference:
It seems evident, at this point, that there will be no comeuppance as a result of the excesses of the Bush administration. There will be investigations; they will investigate. There will be subpoenas; they will simply be refused...We know misrepresentations were made that led us, apparently inexorably, into war. In the end, we are as a nation (public, press, and government) not particularly interested in hearing the particulars of how or why; the truth is that we were aching for a good war, and the rationale was an afterthought not just for the Bush administration, but for most of their audience.


We know the rule of law itself was politicized, made into an apparatus of partisan advantage, a weapon for the ruling party to use against opponents. We know who did it, and we know it was not just unethical, but illegal. But to push it farther than that would require taking the last step -- from investigation, to prosecution -- and that step seems illusory, at best.... There will be reconciliation, and reconciliation will be defined by the conservative punditry as letting bygones be bygones -- anything but that will be unacceptable and partisan, in itself.