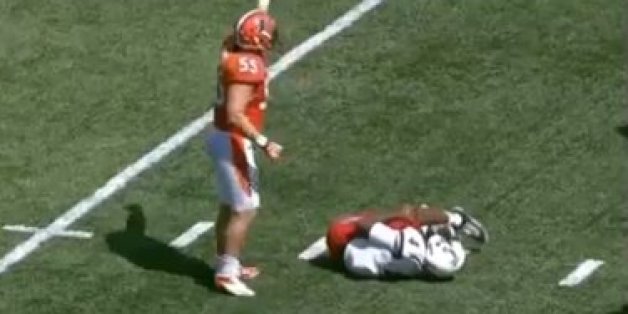 Cincinnati's Munchie Legaux suffered a serious leg injury during a game against Illinois on Saturday and was hospitalized. The senior quarterback had just attempted a pass in the fourth quarter when he was hit by a pair of Illinois defenders. Legaux went down and his knee buckled in an unnatural direction.
WARNING: VIDEO IS GRAPHIC
After Legaux went down, ESPN showed him being loaded into an ambulance. Fans and media members took to Twitter to share their horror at the injury as well as their wishes for a speedy recovery.
Reactions To Munchie Legaux Injury
Following Illinois' 45-17 win, Cincinnati coach Tommy Tuberville tweeted that he visited Legaux at the hospital. Cincinnati athletic director Whit Babcock also visited Legaux, describing him as being in "good spirits."
Just visited w/Munchie at the hospital. Still undergoing evaluation. Extremely tough young man. Say a prayer for him. #Bearcats
Munchie was in good spirits. Family on way fr Louisiana. Lots of tests being run. That's all updates for now. Prayers up
He'll be kept here overnight. Thk you to all ath trainers & medical personnel on field for the quick action & care. Respect & gratitude.
Coach T & I just visited w Munchie @ Hospital. VERY tough young man. Lots of tests being run. He's in good hands w UC & UI docs. God Bless
MORE FROM THE ASSOCIATED PRESS
CHAMPAIGN, Ill. — Cincinnati quarterback Munchie Legaux was hospitalized and undergoing tests in Illinois after suffering a gruesome injury to his left leg Saturday in the fourth quarter of a loss to the Illini.

Legaux was hit by a pair of Illini players as he dropped back to pass midway through the fourth quarter and his leg hit the turf awkwardly. The senior from New Orleans stayed down for several minutes, grabbing his leg in obvious pain, before being driven off on a cart. His teammates gathered around him on the field before he was carted away.

There were no specifics given on Legaux's injury, but Cincinnati athletic director Whit Babcock posted on his Twitter account that he and coach Tommy Tuberville visited the quarterback in the hospital after the game.

"VERY tough young man. Lots of tests being run. He's in good hands w UC & UI docs. God Bless," Babcock tweeted.

Babcock later posted that Legaux's family was on its way to Louisiana to be with Legaux.

Legaux left with the Bearcats trailing 31-17. He had taken most of the snaps Saturday for Cincinnati but Brendon Kay had shared some of the quarterback duties before the injury. Legaux passed for 237 yards and a touchdown while rushing for 52 yards prior to the injury.
349 Comments