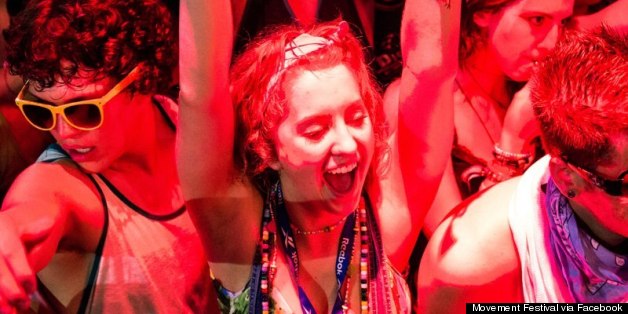 I get a lot of emails asking me for recommendations - places to eat that are new and cool, places to eat for an anniversary/birthday/special occasion, places to get married, places to sightsee. Etc. While I don't have time to respond to each and every one of these requests (seriously, I get a lot), I do try my best to answer as many as I can, particularly for people coming in from out of town (I get a lot of those, too).
Last weekend the social media coordinator for Beatport got in touch asking for some recommendations within walking distance of the Movement festival grounds while she was in town. She wanted beer bars, a beer store, and a place to get some of that oft-cited Detroit-style pizza that's been making some national waves lately. Which got me thinking: wouldn't it be nice if I had a list of places to go for ALL people coming into town for Movement? Even semi-local people who might not be as familiar with the area immediately surrounding the festival grounds?
Indeed it would. So here you go.
Note: this year, the boys of Bailout Productions invite you to take Refuge at the Rhino Bar. I recommend you do so.
#1 Foran's Grand Trunk Pub/MotorCity Wine Downtown
If it's beer you seek, to Foran's Grand Trunk Pub you should go. They were the first bar in Detroit to switch over to all Michigan craft taps and have a huge selection of craft beer by the bottle too. For Movement they usually have a few coordinating parties, plus they are also open for Saturday and Sunday brunch. *AND* they sell beer to go, *AND* they are all of five minutes walking distance from the festival grounds. Expect heavy Midwestern bar food: burgers, corned beef, deep fried pickles, deep fried pickle corned beef burgers (actually you would have to special request that, but they would totally do it), etc. Upstairs is MotorCity Wine, and this will be its last year in this location. Take advantage: yes it's a wine bar and as such they have a fantastic selection of wine, beer, cheese and charcuterie, but it's also a live music venue with events planned all Movement weekend. (Pro tip: Monday's "House Gallery" is free and goes on all day.)
Ways To Celebrate Detroit Techno Week
Comments