What time did you ditch your Thanksgiving leftovers to head out for Black Friday shopping? Retailers sure were clever this year; some of them open all of Thanksgiving Day, luring us away from family, friends and the giving-thanks part of the holiday to get a jumpstart on the biggest shopping day of the year. There's really no other way to put it: Black Friday and Cyber Monday are celebrations of excess. Buy two flat screens, get the third half-off.
This year it's time to do something different. Something alternative.
Giving Tuesday, which is tomorrow, will serve nationwide as the day for including charity in our celebrations. Unlike Black Friday or Cyber Monday, Giving Tuesday demonstrates that holiday shopping can be about both giving and giving back. It's time to take stock of our spending habits and make sure they reflect who we really are.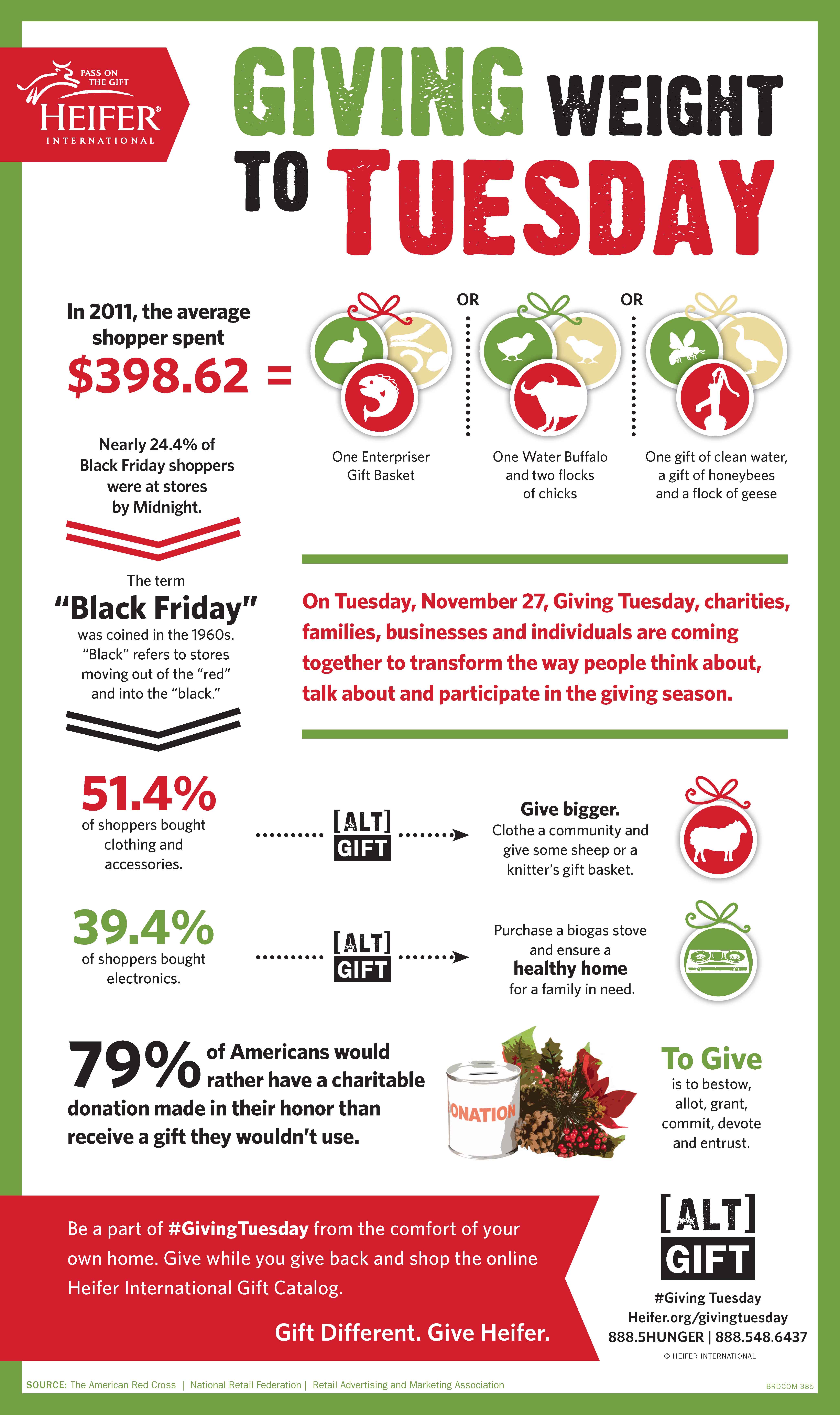 Isn't giving to others in need the best way to celebrate how thankful we are for what we have?
I had a great Thanksgiving last week with my family. I am thankful for the time I was able to spend with them, the delicious food we ate and the general comfort of our everyday lives. That same night, however, a whopping 852 million people around the world went to bed hungry. They do every single night. As President and CEO of Heifer International, this weighs heavy on my heart.
By purchasing a Heifer International alternative gift tomorrow for Giving Tuesday, you can help end hunger and poverty among families in dire need. Heifer offers animal gifts that can transform entire communities. The gift of a flock of ducks, a llama or a water buffalo will lift up a rural family with products like eggs, milk, manure and draft power, enabling farmers to grow their family business and prosper. Additional income can be used for school, medicine or household improvements. We know these gifts really work: since 1944, Heifer has carried out projects around the world producing long-lasting change.
With Black Friday behind us and Cyber Monday in full swing, no doubt you've checked some of your loved ones off your shopping list. You probably saved some money doing it. This year, take those savings and shop for the rest of your list with Heifer's online gift catalog. We've even built a one-of-a-kind Black Friday Savings Calculator, which will take what you saved and tell you which life-changing gifts your savings can buy. Can you believe 79 percent of Americans would rather have a charitable donation made in their honor than receive a gift they wouldn't use? In this age of overindulgence, I can. Choose an alternative gift-giving experience.
Heifer has been the trailblazer in alternative gift giving, and it's no wonder. Our gifts have the potential to bring serious change in the world, and we have the right gift for everyone on your list. You shouldn't have to choose between giving a fun holiday gift and making a bigger difference in the world.
But don't just take it from me. See what some of our supporters have to say:
Storified by Heifer International · Fri, Nov 09 2012 11:58:46
We're curious: Why do YOU give a Heifer International gift to someone? Tell us in the comments.
Our father was a farmer his entire lifetime. In the past, he made a couple trips to Haiti on missions and he came back with stories to share. Now when holidays or birthdays roll around, he can not think of a thing that he needs. When asked if he would like us to donate to help others, he was all smiles. A gift to Heifer makes us all feel great!Pera Rockefeller
It is a wonderful way to demonstrate meaningful giving, a gift that endures, instead of stuff which is way too plentiful in our society. How delightful a flock of chicks or a baby goat is! If these things make me smile, I can imagine the joy it brings to its new home.Sherry Santana
We have more than we could ever want or need, so much so that our own blessings become burdens. I love giving Heifer gifts because it is truly selfless, wonderful giving that never ends!Brandi Willis Schreiber
It's better than flowers or candy or some tchotchke you'll never use, AND both of you feel really good about the gift. It makes both of you the gift-giver.Maggie Rollins
We are so blessed, and don't need more stuff and things, and our friends agree! For several years several families of us gave each other Heifer gifts. It says, "I care about you, and I know you care about others, too!"Julie Beckwith
My dad grew up on a farm, and remembers the sustainability that their animals provided during the Great Depression. He knows that a gift of animals is not a handout, because much work is required, but rather it's a helping hand to enable people to gain self-sufficiency. Therefore, rather than receive gifts he doesn't need, he would rather those resources be used for more urgent purposes.Paul Hughes
I have my kids do it for me in lieu of gifts. I tell them the best gift you can ever receive is knowing you helped someone help themselves.Diana MacGillivary Bruso
We're asking: Why do YOU give a Heifer International gift to someone? Tweet us back!Heifer International
@Heifer I enjoy giving during the holidays, but hate to just buy someone more "stuff". #Heifer is more meaningful to give & receiveAmanda Freechack
@Heifer Because its like giving an opportunity.sanguinesu
@Heifer Because of your direct, tangible, positive impact.Mark Olwick
@Heifer Because of the #multipliereffect and #empowerment #HeiferInternational programs create.Jackie Jameson
When you give a Heifer International gift for the holidays, your loved one will receive a beautiful honor card describing the animal gift and its impact on the family that receives it. Sure, we don't offer sales or discounts. There are no BOGOs when you're ending hunger and poverty. But how do you put a price on a life, security or health? A $120 goat, $250 water buffalo or $500 heifer seems a small price to pay for hope and opportunity.
Looking to spend a little less per person, but still want to help save the world? A flock of geese is a great gift at only $20. Honeybees are $30. Or start a women's self-help group for $72. With a Heifer International gift of any size, the "thank-you!" will reverberate far beyond your own friends and family, giving new hope to families around the world.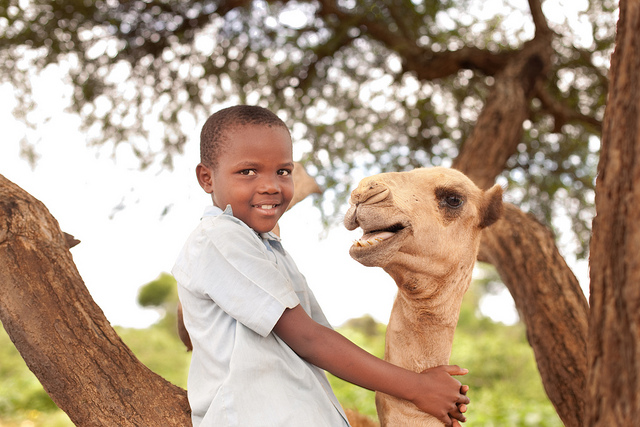 Photo by Dave Anderson, courtesy of Heifer International.

This Giving Tuesday, I challenge you to take what you saved and buy your loved ones alternative gifts that really make an impact. Use our Black Friday Savings Calculator to figure out how your savings can be translated into life-changing gifts. It's money well spent.
This blog is part of our #GivingTuesday series, produced by The Huffington Post and the teams at InterAction, 92nd Street Y, United Nations Foundation, and others. Following Black Friday and Cyber Monday, #GivingTuesday -- which takes place for the first time on Tuesday, November 27 -- is a movement intended to open the holiday season on a philanthropic note. Go to www.givingtuesday.org to learn more and get involved.
Read more about how gifts from Heifer International transform lives on the Heifer Blog's What to Give 2012 series.