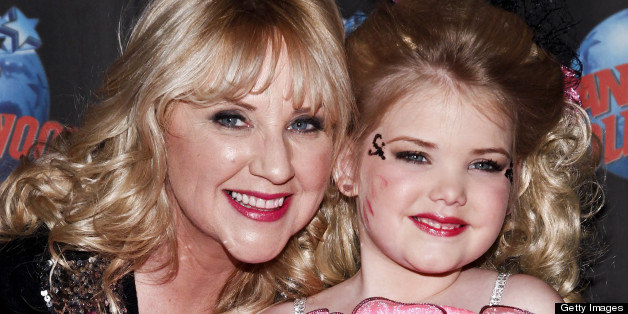 You've heard of "momagers," but how about "momsters"?
Former "Toddler & Tiaras" star Eden Wood's mother Mickie Wood is being called just that and more by her daughter's former manager, who has written a "tell all" book that contains some disturbing allegations.
Mickie Wood told The Huffington Post in a statement, "These allegations are untrue and I am very sad and disappointed that Eden's former manager would be publishing such false and defamatory material."
According to Star magazine (May 6, print issue), Ryan writes that Mickie turned out to be "lying, jealous, demanding and evil to the core." She goes on to claim that her former employer put pageant competitions above Eden's health, as she says the child was "drinking Red Bull and espresso nonstop" at the age of 6, and that her teeth were rotting out from all the sugar, but her mother refused to take her to the dentist.
A poor diet is one thing, but Ryan also claims that Mickie would make her daughter practice her routines for eight hours straight, and if she messed up, Mickie would tell her daughter, "You're just like your father -- he's a loser," and allegedly referred to her as a "little shit."
"I used to get angry, but what good does that do? Because I don't care. I'm going to do it whether you approve or you don't. I know what's best. I didn't have Eden until I was 40. She's the only kid that her dad and I have, from our only marriage. We went on a cruise together and came back with a little souvenir."
405 Comments