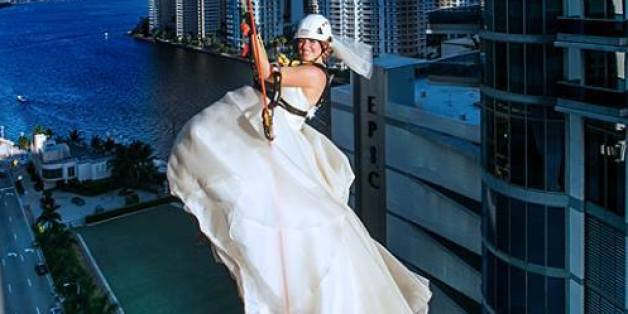 Miami couple Carlos Gato and Rebecca Shackelford took the plunge in more ways than one when they tied the knot on Friday.
The couple was originally planning to get married in 2014 until they came across the Miami Children's Initiative contest for brides and grooms-to-be on Facebook. In addition to their opportunity to scale the high-rise, the couple also won the wedding, the gown, the cake and a night at the Marriott.
Those close to the couple weren't exactly surprised that they opted for an adrenaline-pumping Big Day experience.
"Calling them adventurous would be an understatement," Fred Shackelford, the bride's father told the Miami Herald. "Every time I see her, it's like, 'Where's that bruise from?' And it's, 'Oh, that's from mountain biking' or 'That's from street surfing.'"
Check out some awesome photos from their exhilarating Big Day experience in the slideshow below.
Rappelling Wedding In Miami
Comments