The Daily Deal site business is tough. DD sites manage a large sales force to signup vendors: A cost and manpower problem not usually associated with web-based businesses. DD sites must create deals that represent perceived value to consumers while increasing profits for vendors more efficiently than traditional marketing channels (e.g., print, radio, direct mail). Ultimately, DD sites need to drive traffic to their sites and increase consumer retention. In today's world, the most efficient way to increase traffic is through engaging the consumer to share their experiences with friends (i.e., social networking). Great businesses want to be "best in class." For great DD sites this means consumer love.
Usually, the data and findings about consumer preferences are hidden behind proprietary and confidential analyses. However, a new study by Utpal M. Dholakia, an associate professor of management at the Jones Graduate School of Business, Rice University, and Sheryl E. Kimes, the Singapore Tourism Board Distinguished Professor of Asian Hospitality Management at the Cornell University School of Hotel Administration: Daily Deal Fatigue or Unabated Enthusiasm? A Study of Consumer Perceptions of Daily Deal Promotions reveals public data on DD sites. Their study provides some interesting statistics:
There is plenty of room for growth. Only one in six (16.7%) consumers use daily deal sites.
Demographics of DD users match US population. About two-thirds of DD respondents came from households earning less than $75,000 per year, 20% earned more $100K per year with the remainder in the middle. Surprisingly, the percentage of women DD respondents was similar the US population (57%).
Site users keep coming back. Most DD site users (85%) are regular DD site consumers.
There is no consumer fatigue. Shoppers who have purchased DD remain enthusiastic about such deals and seek new deals.
Big name sites have seen the most traffic. The respondents had used Groupon (56%), LivingSocial (46%), and Restaurant.com (46%) at least once. The lowest response was for Scoutmob (8%).
What are consumers' favorite sites?
"Favorite" can be defined in a number of ways. Which site gives the best deals? Which site do you visit most? Where do you spend the most money? Based on the report, favorite is defined by the number of respondents who listed the site as their favorite divided by the number of respondents who used the site at least once. While this is a good measure, the report does not help us delve deeper. For instance, we don't know the favorite site for consumers who use at least two sites.
Given this caveat, Groupon is by far the favorite site (77%). However, Scoutmob (42%) is the second most loved site (although lowest in traffic) followed closely by Restaurant.com and OpenTable (see graph). The most surprising result is that LivingSocial (16%) has the lowest score.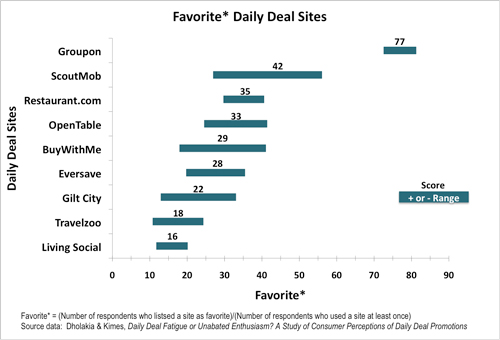 Groupon and LivingSocial offer a broader range and generally more high-end products (i.e., travel, clothing, health & spa) than the other sites in this study. Clearly, Groupon is doing something right. However, first time LivingSocial buyers have twice the spend as first time Groupon buyers. It is very possible that LivingSocial heavy users represent a much narrower income bracket. We cannot tell any of these nuances from this Study.
Scoutmob, OpenTable and Restaurant.com predominantly sell dining opportunities and their scores are statistically similar (i.e., the overlapping green bars on the graph). However, we are prone to look at the absolute score for these sites and wonder if Scoutmob is special.
Let's assume for the moment that the differences in scores between these three sites are meaningful. What is it about Scoutmob that these other sites can identify and bring into their product? Scoutmob has a unique, and potentially disruptive, dining model. It is an "of the moment" site. No problem being impulsive because there is no upfront money (i.e., $10 for $20): A rejection of the DD models from all other major sites. This means a low hurdle for consumers but also a low hurdle for vendors.
What are the takeaways?
LivingSocial needs change. If the statistics in the report are valid, they need to up their game.
Scoutmob is unique. Other sites should extract characteristics from Scoutmob and test them on their sites.
This Industry is going to change. There is plenty of room for new players because, based on respondents, over 80% of the US population does not use these sites. Models can change. New players can enter the market (see Google's new hire from Groupon). Furthermore, DD services may start to rely on text messaging (e.g., Mobile Commons, Lettuce Entertain You loyalty programs ) for further penetration since a Nielsen survey found that only 25% of mobile phone users use their browsers.
Where are the household goods coupons? Scoutmob's model evokes the usage of classic coupons for household goods, an entire sector omitted from these and most other sites.
The fascinating part of this business (at least to a statistician) is that each of these sites can modify its offers by city, user, and day. Their volume of traffic allows them to test the value of each tweak: Constantly modifying their sites to accommodate consumer preference. This makes the nature of the Industry very fluid.