This is week two of seven in the training for my sister's Wedding Day 5K, and I am happy to report that my speed has increased from "bloated sea-cow" to "ungainly buffalo." Though I am still finishing my runs drenched in sweat and odor, I do not feel an intense hatred toward exercise at the end of them like I used to. I even passed someone on the jogging path on Thursday! If I wasn't panting like a pack-a-day smoker, and if he wasn't a 65-year-old man in much better shape than I have ever been or will ever be, I would have shouted something snappy as I passed.
Anyway, the app for this week is Runmeter. I ran with it three times -- Monday, Tuesday, and Thursday -- and I am happy to report that Runmeter does include a truly unique feature that is perfect for the lazy runner:
BEST REASON TO GET OFF THE COUCH: Your Facebook Friends Can Comment On Your Run, And A Robot Will Read Out Their Comments No Matter What They Say
When you begin a run, you have the option to post an update to both your Facebook wall and Twitter account. Your friends and followers can then respond to this announcement, and if they do, their responses are read aloud into your headphones by a text-to-speech bot.
Such spontaneity and playfulness is a definite welcome addition to the world of fitness apps.
Now, in theory, this feature should be all about encouragement. "Keep going!" I'm sure the developers at Abvio envisioned being commented on a runner's Facebook walls and Twitter feeds. "You're doing great! Don't stop!"
And it is possible that some runners who use Runmeter really do receive authentic, heartfelt cheers from their supportive Facebook friends. However, when I posted my runs on Facebook, the comments looked more like this: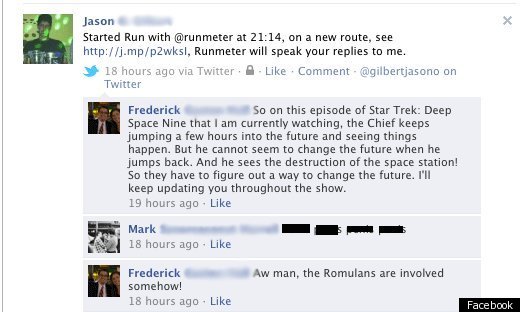 All of this--every word--was read into my ear, without emotion, by an American lady-robot named Laura (there are several options for robots, available for $1 each; you can switch sex and nationality to whomever you find most motivational). And though plots of Star Trek and a string of expletives aren't motivational in the traditional sense, they are an excellent distraction, as I found all three times I ran with Runmeter.
For example, on my Tuesday run, I had hit a wall at about the 12 minute mark. My Runmeter was set to read out my pace and distance and a few other vitals every minute or so (foolishly, as this became monotonous very quickly). I was really fighting it, and thinking about packing it in early, when in my ear I heard that my friend Keith had left a new comment: an (unprintable) quote from the movie Precious, in which my Runmeter-bot cursed me (Precious) out for inviting an unwelcome guest into her home. The tension in my legs seemed to disappear, and I even laughed out loud.
Mission accomplished, Runmeter autobot. Mission accomplished.
BEST REASON TO REMAIN SITTING: My Pace Is What?
Like any good smartphone fitness app, Runmeter tracks your current time, your distance traveled, your average pace, even your elevation. And it does so in a readable, attractive front screen: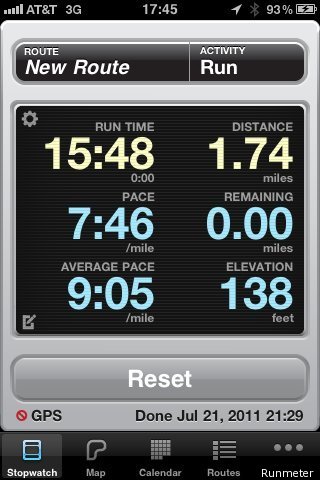 What is most frustrating about Runmeter, however, is it pushes 'Pace' to the front -- which would be fine, if the 'Pace' function on Runmeter gave me any confidence that it was accurate.
Now, my big complaint about previous Lazy Man's Fitness App Runkeeper -- that the GPS (or my phone's GPS) was wonky -- seems to be resolved by Runmeter. I never had a GPS problem, and Runmeter mapped perfectly the exact same running trail that Runkeeper could not. Bravo.
But when I see a 'Pace' graph like this one: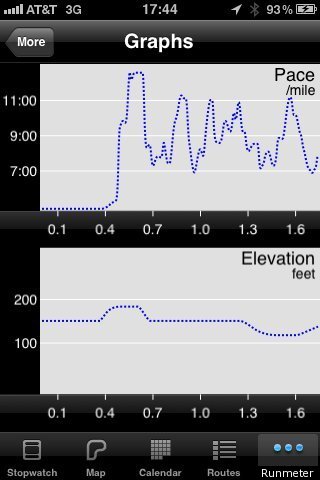 I have to wonder whether I am alternately sprinting one minute and crawling the next, or whether there is something amiss with how Runmeter calculates pace. In any case, it is rather disheartening, over the course of a run on a flat surface, to be told that one minute that you are cruising at a 7:30 pace, only to have slowed down to a 14:15 pace the minute after.
Perhaps this is some kind of psychological mind-game Runmeter is playing with the user that actually makes him go faster during sluggish stretches. But that is probably wishful thinking.
CONCLUSION: Is Runmeter A Good Fitness App For Lazy People?
The app's best feature -- its social media connectivity and its ability to read out your friend's comments to you -- is fairly dependent on the person. If you have a lot of active Facebook and Twitter friends, this app is for you. It also depends on what your friends are like. Most of my friends, for example, are cynical twentysomethings raised on sarcasm, and while being read monologues from "The Matrix Reloaded" and the entirety of song lyrics from "Joseph and the Amazing Technicolor Dreamcoat" can be fun at first, around stanza three of "Go Go Go Joseph" one can really just wish for some music.
That said, the very unpredictability of what my friends would say to me on any given day was kind of exciting, and the participation of so many disparate people -- relatives, college buddies, ex-girlfriends, fellow Redditors -- really did put an extra spring in my step. It's nice to know that people care about you, even if only to take a few seconds to string together several curse words on your Facebook wall.
Runmeter also gets points for its stylish front screen, colorful run maps, and calendar features that show you on which days you've run. I do wish that Twitter and Facebook integration were more customizable: if I could post a personal message to my friends along with the boilerplate "I just started a run with Runmeter at xxx time," I feel like I could get more participation and encouragement. And I don't know what goes into the pacing calculation, but please: don't tell me I'm running 15-minute miles when I feel I'm on a roll.
These are quibbles, though. Runmeter scores high on my funmeter (sorry); it is a solid app with a neat social media integration feature that, though it could be upgraded a bit, makes running slightly less like torture for non-athletes. A lazy man's thumbs up.
RUNMETER ESSENTIALS (Listed In Bullet Form, For The Lazy)

Website: www.runmeter.com

Clout: Won "Best Health & Fitness App" at 2011 Appy Awards

Things It Can Do
GPS-based activity tracking
Store past workouts on phone
Share your workouts via Facebook, Twitter, and dailymile
Voice-based motivation both in phone and from comments left on Facebook posts and tweets
Import friends' workouts to compete against their times and distances
This is part of a series of articles profiling fitness apps for lazy people. I am training for an August 27th 5K, despite my better instincts. For the introduction and mission statement, click here. You can follow my progress on Twitter at @gilbertjasono, or by 'liking' my reporter page here. Stay tuned for next week's Fitness Apps For Lazy People series installment when I review the the appropriately-titled Couch to 5K.