After reading Kathy Freston's recent Huffington Post article mentioning different viewpoints on increasingly popular faux meats (a.k.a. meat alternatives, substitutes and analogues), I thought I'd share my favorite "faux" recipe.
I made this (below) on a recent morning for my visiting in-laws, and it was a big hit. Even my very carnivorous father-in-law ate the whole thing!
Faux meats are great for healthy people (like me) who'd like to cook a tasty, plant-based meal when our meat-eating friends or relatives are visiting, but don't want to make two separate meals. And meat substitutes are an excellent transition food for people moving toward a more plant-based way of eating.
As Kathy eloquently puts it:
"Showing people who are trying to move toward a plant-based diet that they can still eat their favorite comfort foods is an important way to break down barriers and resistance to a new way of eating. Once the mind opens, it continues to expand. For many people, starting out on transitional foods like vegan meats, cheeses, and milks is a first, fantastic step, and they'll likely later incorporate more "real foods" like unprocessed grains, beans, vegetables, and fruits into their diet."
If you've never tried vegan sausage or seitan or other so-called faux meats, you'll likely be pleasantly surprised. They're not some weird plastic foods (!) -- they're actually made of good-for-you whole grains, wheat and soy.
When I first started eating healthy 12 years ago to help me heal from invasive breast cancer, I often made a Hot & Sour Soup containing seitan to help my then-meat-eating family with the transition to healthier eating. It's still a favorite in my house.
My husband Tom started making this dish several years ago for my daughter Cammie as a breakfast treat when she came home from school or on vacations. We also use this as a burrito filling -- and it's a nice change of pace from the usual bean and rice burrito. To me, it's more of a warm German Potato Salad wrapped in a soft steamed tortilla.
Let me know what you think!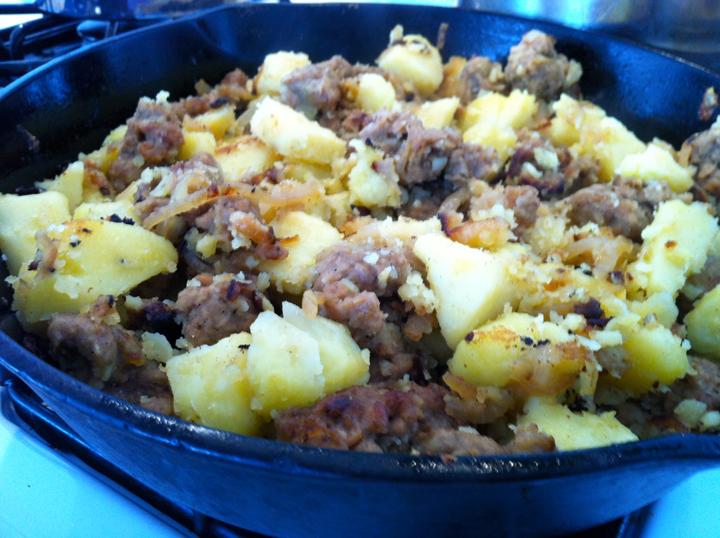 Faux Favorite
6 potatoes, washed and cubed
1 large onion, sliced in half, then each half sliced thinly
1 tablespoon of olive oil
1 package Gimme Lean "sausage"
1 teaspoon of Italian seasoning
Sea salt, pepper to taste
6-8 whole wheat (or brown rice) tortillas
Optional: salsa
Put potatoes into a soup pot, cover with spring or filtered tap water, and bring to a boil on high. Cover, turn to low and simmer for 20 minutes or until cooked but still firm. Drain water.
While potatoes are cooking, heat olive oil in a cast-iron skillet on medium-high, add onion and sauté for 5-7 minutes with a pinch of salt. When onions are cooked, push to the side of the pan. Open the package of Gimme Lean sausage and break up into ¾ inches pieces. Add to the skillet with a little more oil, and cook for another 5-7 minutes until brown and slightly crispy.
Mix the cooked sausage and onion together and add the cooked potatoes. Add Italian seasoning, salt and pepper to taste, cover and keep on a low flame for a few more minutes.
In a 2 ½-quart saucepan, heat 3 cups of water to a boil on high. Turn down to medium-high. Put a steamed basket or wire mesh basket over the top of the pan to use as a steamer.
Steam a tortilla for about 20-30 seconds or until soft. Pull it from the basket with tongs and place on work area. Place ¾ cup of the potato, onion and sausage mixture on the tortilla and roll it into a wrap. Turn the sides it while wrapping. Place on a serving plate, and top with salsa if desired. Repeat the process with the remaining tortillas.
For breakfast, these are nice served with cut-up fresh fruit. For lunch and dinner, serve with a salad or vegetables!
This meal will rival the real stuff, minus the saturated fat and animal protein! I'd be willing to wager that cookbook author Mark Bittman -- an outspoken critic of faux meats -- would be wowed by it, too!
Do you have a meat-free meal that you love? Please share your favorite here in the comments section. Would you consider trying this recipe?