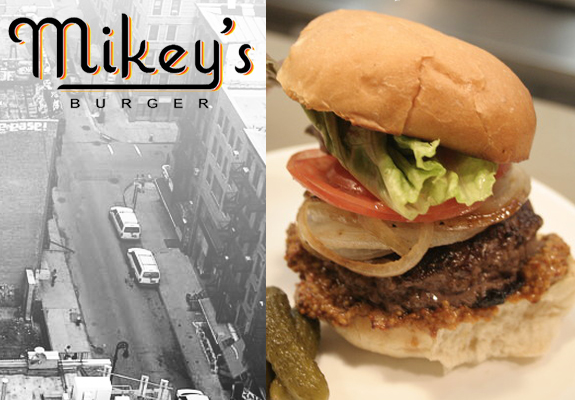 Many people look to their roots when they desire inspiration -- or, if those roots're Rusted, when they totally want to jam. For a chef returning to his, hit Mikey's Burger.
Setting up in the old Rush Hour space with the industrial-minimalist flare of bare white brick walls and plain black bar stools, MB's the latest-latest effort from Michael Huynh, whose high-school experience flipping short order burgers upstate plays muse to the victuals, and provides hilariously unfair hope for White Castle line cooks everywhere. The hyper-focused menu boasts just four different, potato roll'd, six oz sammies (sided w/ jalapeno-cilantro slaw), with the namesake headliner a chuck/short rib/brisket concoction -- pressed with raw onions/corned beef hash, griddle crusted, and finished with pickled mustard seeds -- that "evokes the flavors of the coffee shops of yesteryear" (nothing says Small Town, USA like Asian-influenced condiments!). Off the beaten path you'll find a satay-style lamb job w/ spicy peanut sauce and fresh mint, a wasabi aoili/pickled onion abetted tempura-fried tilapia patty (w/ optional caviar topping), and a BLT burger rocking chinese bacon/sausage and Kewpie mayo, which is crazy considering some of those dolls are worth, like, thousands of dollars.
You can also grub up on fries and spicy curry-chili smothered hot dogs, and while the beer-and-wine license pends you can slug down classic egg creams or exotic shake flavors from toasted almond, to black sesame, to tamarind caramel, to avocado -- if you don't like 'em, just send 'em on their way-ay-ay-ay-ay...ay-ay-ay...semi-ama-way.