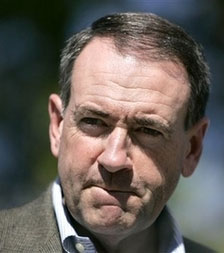 Former Arkansas governor Mike Huckabee is trying to make himself out as something of a comeback kid in the GOP presidential race. His campaign crowed last week about a Newsweek Iowa poll showing he had overtaken Sen John McCain (R-AZ) and was nipping at Rudy Giuliani's heels. Huckabee also got plenty of attention when he slammed the Republican front runners for sitting out the African-American voter forum at Morgan State University.
But in the presidential money race, Huckabee is holding his cards. His campaign just told the Huffington Post that it will not be making an announcement on 3Q fundraising results prior to the October 15 public announcement by the Federal Election Commission.
Most Republican observers insist that Governor Huckabee's lean campaign can't be anywhere near as successful as his low-fat diet was. As Newt Gingrich said this weekend on ABC's This Week, "Huckabee is very effective, and if Huckabee can find money, he will be dramatically competitive almost overnight."