Earlier this month, Trane presented the district with an award for being a leader in energy efficiency in education after working with the energy conservation specialists to enact efficiency measures in all 47 of its buildings.
The first phase of projects is almost complete and involves installing energy efficient light fixtures and motion-sensor light controls in all district buildings.
The second phase began in February and includes replacing boilers, swapping out electric stoves for natural gas ones and installing Web-enabled thermostats in 14 schools. This phase encompasses many other projects and should be completed before the end of summer.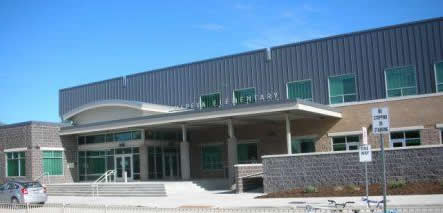 A third phase most likely will involve water conservation measures, as well as photovoltaic and geothermal projects.
The contract with Trane primarily will be paid for through energy savings and assisted by rebates from Xcel Energy, grants from the American Recovery and Reinvestment Act (ARRA), a low-interest Qualified Energy Conservation Bond and additional ARRA funds through the Colorado Governor's Energy Office.
Elsewhere in the district, in spite of budget constraints tightening the reins on personnel hours, Nutrition Services has been making a concerted effort to reduce the use of disposable food service items.
"As stewards to the taxpayer, all D51 kitchens are aligning labor schedules to industry standards. We have provided a list of fiscal strategies the site manager can choose from on short staff days when substitutes are unavailable, e.g. one of those strategies is to utilize disposables versus normal tray washing," explained Dan Sharp, Nutrition Services director.
Although managers at each school cafeteria may choose to fall back on disposables for occasional use when short on staff, the district encourages them to reduce the amount of Styrofoam used.
This effort has been so successful the district has decreased the amount of money spent on disposable products by 30 percent over the past three years.
This blog originally ran as a SustainAbility column in the Daily Sentinel/gjsentinel.com.