ON MOTHER'S DAY OR ANY DAY
Cinnamon Buns in the Morning
Everyone thinks that their mother is the best cook in the world. My mother, Lucy, had to be an excellent cook because she is the mother of ten children. She called herself Lucia Child and the name was well deserved. In spite of her Irish background, and because she was married to my Italian father, Pete, she could whip up delicious food of all types. (It is fortunate that my 87 year old mother gets her news from the print media since I just took a swipe at the culinary skills of the Irish, a crime punishable with eternal pursuit by the banshees.)
It does seem that everyone cherishes some special dish that their mother made for them. For some people it may be the only really evocative memory that they have from childhood. Whether it's pork chops pan fried with herbs in a skillet, or stuffed grape leaves, or the best strawberry rhubarb pie on Cape Cod, these are the everyday things that create the texture of childhood and our memories are laced with these tastes and smells and even the sounds of food preparation.
In my big family, each of us has our favorites. I think P.J. might lean toward Mom's angel food cake, and her fried chicken and biscuits. We all consumed vast quantities of her Million Dollar fudge. I loved my mother's tetrazzini. All of these recipes can be found on DishandDine. In fact, one of the reasons I created the website was to save the recipes that make up a part of my family's past in a very tangible, visceral way that I can't explain but that I know is important and that I don't want to lose. I felt this would be true for other families, too. And it's great to know where to look for them!
Recently, our mother was very sick. While she was in the hospital her own mother, who died when I was three, was very present to my mother. Of course, that made a lot of sense. We all want our mother there with us when things are not going well and we are hurting. As Mom got better, her own mother left her side, so to speak.
We feel very lucky to have our mother with us this Mother's Day, and I'd like to share one of her very best dishes and a favorite of all ten of us: her Cinnamon Buns. Every Sunday morning, Mommy would make these cinnamon buns, and the smell of them baking and the aroma of the cinnamon and the butter and the sugar bubbling in the oven filled the whole house. It brought all six of my brothers and four sisters out of bed, regardless of the ungodly hour the eldest might have returned home. You just followed the scent down the steps in a transom, as an old friend called it, because you really had to get one of the first buns hot out of the oven. So what if you burned the top of your mouth, it was SO worth it to have that caramel melt in your mouth and have that hot buttery, cinnamon roll slide down your throat. Now, that's heavenly. Proust had no idea what sensory memories a cinnamon bun can evoke.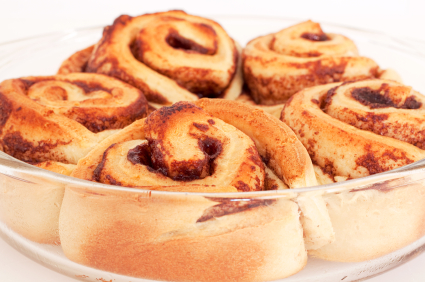 My youngest brother, Cory, still makes these cinnamon buns every Sunday at his home down at the Jersey Shore. And they are SO easy to make. You buy bread dough at the market, cover it with butter and cinnamon and sugar, and put brown sugar in the pan. As it cooks, the smells that waft through the house are indescribably delicious--and you will want to repeat them often. Surprise your Mom with this treat for Mother's Day breakfast or any day, for that matter! And make it for yourself and your significant other and you kids, too. We all need a cinnamon bun in our life sometime! Happy Mother's Day to all!
Ingredients:
1 ball bread dough or pizza dough from the market
1 stick butter softened
Preparation:

Preheat oven to 350°. Grease an angel food cake pan (bundt pan) or round Pyrex casserole dish. Grease pan well, coat bottom of pan with ½ cup light brown sugar. Set the pan aside.

Get 1 ball of bread dough or pizza dough from the market. Dust the board with flour. Stretch dough out a little. Rub softened butter over top of dough.

Mix together in small bowl ¼ cup white sugar and 1 teaspoon cinnamon. Sprinkle mixture over dough evenly. Add chopped nuts if you would like to. Gently roll the dough like a jellyroll. Cut roll into 1 ½ inch slices.

Put the slices into greased pan right next to each other. Cover with a towel. Let buns rise for at least 10 minutes. Pour Karo or maple syrup over top of buns. Bake at 350° for 40 minutes. Then turn over carefully onto a serving plate, and they're done!!
This recipe and many other family favorites are available on DishandDine.com. Stop by and become part of this food community! Your kids will love to know where to find your best recipes!
DishandDine - It's All About Food
dishanddine.com
twitter.com/dishanddine
facebook.com/DishandDine
Follow Cheryl Carlesimo on Twitter: www.twitter.com/Cheryl Carlesimo