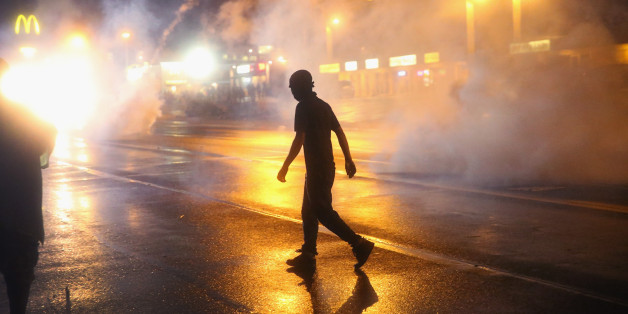 Ferguson, Missouri witnessed another night of clashes late Saturday night and early Sunday morning, as several dozen protesters defied the midnight curfew set in place by Gov. Jay Nixon (D). Police forces deployed tear gas when one protester was believed to be armed, and seven individuals were arrested.
Later Sunday morning, members of the Ferguson community took to the streets to clear debris. The Huffington Post's Ryan Reilly spoke with some of the individuals taking part in the cleanup:
08/26/2014 7:49 AM EDT
The Toll On Michael Brown's Family
USA Today's Yamiche Alcindor provides an intimate look at how Michael Brown's parents have been dealing with the loss of their son:
Phones constantly ring with reporters asking for interviews or family members offering support. Last week, as demands reached a tipping point, both parents moved into hotels to shield themselves.

In the days leading up to the funeral, Brown's mother continued to cry and spoke in whispers as she tried to explain her feelings.

"They say tomorrow is going to be the hardest day, but I think today was — just seeing my baby laying there, cold," Lesley McSpadden, 34, told USA TODAY. "It did something to my heart. It's too much. It's too much."
08/25/2014 12:58 PM EDT
Al Sharpton: America, It's Time To Deal With Policing
08/25/2014 12:53 PM EDT
Al Sharpton: All Of Us Are Required To Respond
08/25/2014 12:48 PM EDT
Benjamin Crump: We Will Not Accept Three-Fifths Justice For Michael Brown
08/25/2014 12:28 PM EDT
Funeral Program Includes Tribute From Michael Brown's Parents
USA Today reporter, Yamiche Alcindor shares photo of program which includes tributes to Michael Brown from his mother and father
08/25/2014 12:22 PM EDT
Michael Brown's Stepmother: He Prophesied His Own Death
08/25/2014 12:16 PM EDT
Michael Brown Had Been Dreaming About Death
08/25/2014 11:57 AM EDT
Program For The Funeral
08/25/2014 11:14 AM EDT
Public Still Trying To Get Inside Church
Comments