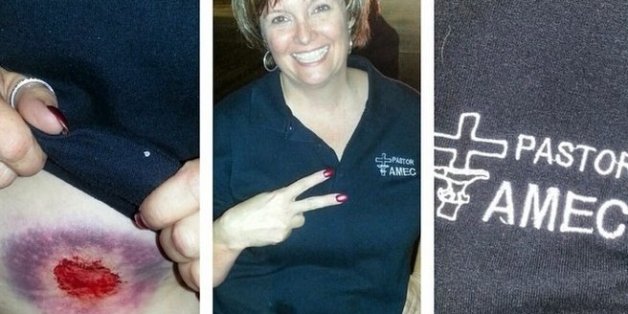 A pastor said she was shot with a rubber bullet on Wednesday during a protest in Ferguson, Missouri, as clashes with police continued over the fatal shooting of unarmed teen Michael Brown.
Renita Lamkin, an African Methodist Episcopal church pastor, told The Huffington Post that she was "standing in the middle of the street, with people behind me, and the police were in front of me." Lamkin said she was attempting to mediate between police and protesters the demonstration and told the police, "They're moving, they're leaving."
"And then there was a pop!" she said, as a rubber bullet struck her stomach.
Tensions with police have mounted since Brown's death on Saturday as crowds of protestors have demanded accountability and answers. The teen was walking with a friend on the street to his grandmother's house when he was pulled over by an officer. St. Louis police have said the shooting happened after Brown got into an altercation with the officer, whose name has not been released. As protests continue, with many residents saying the shooting was racially charged, images of tear gas, rubber bullets and tanks have horrified Americans watching the news unfold.
A widely circulated Instagram of Lamkin's injuries shows a large, bloody bruise. She said she was hit while standing, because her motto is, "Pray on your feet!"
Jon Swaine, a reporter with The Guardian, witnessed Lamkin protesting while "calmly repeating, 'Jesus, Jesus, Jesus.'"
A Vine post said, "This pastor was shot with a 60 cal rubber bullet but she's still here fighting the good fight and protecting others!"
Tef Poe, a St. Louis-based recording artist recording many scenes of protest, wrote:
For all of those that claim this is a joke or think we are being irrational this lady is a pastor she was praying while they shot her .. We were outside waiting for the release of Antonio French and the armored vehicles showed up ! Tell me why this is acceptable? How is this right ? Mike Brown is more than a trending topic people are out here fighting for his legacy! We will have justice Ferguson Police Department your days are numbered I promise you this!!!!! hands up don't shoot !
Lamkin said her main goal was for "everybody to go home. The police and the people." She added, "We're not here to fight the police. We're here to fight the system."
After his release, French shared a picture of Lamkin on Twitter.
Lamkin's son, rapper and recording artist Darren Jackson, shared a photo of her protesting on Instagram, commenting, "Praying for my mom. Wishing I could be there with you on the front lines."
Lamkin said the best way for people of peace to heal the community's wounds is to "love people, love people. Listen to them."
"All people want is to be validated, to know their lives have value. People just want their voices to be heard," she said. "The people are hurting, and they need to be heard. And if you don't give people the opportunity to be heard, they'll take the opportunity to be heard."
Live updates on Ferguson:
08/26/2014 7:49 AM EDT
The Toll On Michael Brown's Family
USA Today's Yamiche Alcindor provides an intimate look at how Michael Brown's parents have been dealing with the loss of their son:
Phones constantly ring with reporters asking for interviews or family members offering support. Last week, as demands reached a tipping point, both parents moved into hotels to shield themselves.

In the days leading up to the funeral, Brown's mother continued to cry and spoke in whispers as she tried to explain her feelings.

"They say tomorrow is going to be the hardest day, but I think today was — just seeing my baby laying there, cold," Lesley McSpadden, 34, told USA TODAY. "It did something to my heart. It's too much. It's too much."
08/25/2014 12:58 PM EDT
Al Sharpton: America, It's Time To Deal With Policing
08/25/2014 12:53 PM EDT
Al Sharpton: All Of Us Are Required To Respond
08/25/2014 12:48 PM EDT
Benjamin Crump: We Will Not Accept Three-Fifths Justice For Michael Brown
08/25/2014 12:28 PM EDT
Funeral Program Includes Tribute From Michael Brown's Parents
USA Today reporter, Yamiche Alcindor shares photo of program which includes tributes to Michael Brown from his mother and father
08/25/2014 12:22 PM EDT
Michael Brown's Stepmother: He Prophesied His Own Death
08/25/2014 12:16 PM EDT
Michael Brown Had Been Dreaming About Death
08/25/2014 11:57 AM EDT
Program For The Funeral
08/25/2014 11:14 AM EDT
Public Still Trying To Get Inside Church
","short_text":"
Michael Brown funeral: sanctuary beginning to fill up. Tom Joyner, Spike Lee, Rep. Maxine Waters, Rev. Jesse Jackson in house.

— Joy Reid (@JoyAnnReid) Read More"},{"id":"705","created":"08/25/2014 10:58 AM EDT","title":"Waiting For Brown's Family","tweet_link":"705_waiting-for-browns-family","entry_text":"

","short_text":"

Waiting for #mikebrown family pic.twitter.com/XNCQMw12bG

— Molly Hennessy-Fiske (@mollyhf) Read More"},{"id":"703","created":"08/25/2014 10:57 AM EDT","title":"Police Captain Ron Johnson Arrives","tweet_link":"703_police-captain-ron-johnson-arrives","entry_text":"

","short_text":"

Captain Ron johnson just arrived #mikebrown funeral--guess nyt was wrong... pic.twitter.com/pCVhNas8xu

&...Read More"},{"id":"701","created":"08/25/2014 10:53 AM EDT","title":"People In Funeral Overflow Room Put Hands Up","tweet_link":"701_people-in-funeral-overflow-room-put-hands-up","entry_text":"

","short_text":"

Funeral supposed to start in 10 mins. Hundreds in overflow room put their hands up. pic.twitter.com/ueSfBiv6Iv

— Wesley Lowery (@WesleyLowery) Read More"},{"id":"699","created":"08/25/2014 10:45 AM EDT","title":"Mo. Sen. To Attend Funeral","tweet_link":"699_mo-sen-to-attend-funeral","entry_text":"

","short_text":"

This morning I will attend Mike Brown's memorial service as a mother, not as an elected official.

— Claire McCaskill (@clairecmc) Read More"},{"id":"697","created":"08/25/2014 10:42 AM EDT","title":"Many At Funeral Memorialize Their Loved Ones","tweet_link":"697_many-at-funeral-memorialize-their-loved-ones","entry_text":"

","short_text":"

Many here at Michael Brown's funeral are wearing T-shirts and buttons memorializing their deceased loved ones.

— Victor Blackwell CNN (@VictorCNN) Read More"},{"id":"695","created":"08/25/2014 10:37 AM EDT","title":"Casket In Place","tweet_link":"695_casket-in-place","entry_text":"

MSNBC reports:

","short_text":"

MSNBC reports:

Casket in place for#MikeBrown's funeral today. #Ferguson pic.twitter.com/qEMD4yQ4WLRead More"},{"id":"693","created":"08/25/2014 10:35 AM EDT","title":"Funeral Security","tweet_link":"693_funeral-security","entry_text":"

","short_text":"

Security lines sidewalk where family will enter at #MikeBrown funeral pic.twitter.com/SKnQOFPSKM

—...Read More"},{"id":"691","created":"08/25/2014 10:33 AM EDT","title":"Brown's Father Asks For Peace","tweet_link":"691_browns-father-asks-for-peace","entry_text":"

","short_text":"

Michael Brown's father asks for peace while 'we lay our son to rest' http://t.co/yFq6cl3HGt via @dailykos

&mda...Read More"},{"id":"689","created":"08/25/2014 10:28 AM EDT","title":"Gov. Nixon Not Attending Funeral: Report","tweet_link":"689_gov-nixon-not-attending-funeral-report","entry_text":"

MSNBC reports:

","short_text":"

MSNBC reports:

Gov. Nixon will not be attending Michael Brown's funeral "out of respect for the family." #Ferguson

— Amanda ...Read More"},{"id":"688","created":"08/19/2014 11:25 PM EDT","title":"Peacekeepers Attempt To Quell Fight","tweet_link":"688_peacekeepers-attempt-to-quell-fight","entry_text":"

","short_text":"

Peace Keepers guy helped calm the other guy and prevented a fight. Lots of folks trying to keep the calm #Ferguson ...Read More"},{"id":"687","created":"08/19/2014 11:15 PM EDT","title":"Police Unleash The Dogs","tweet_link":"687_police-unleash-the-dogs","entry_text":"

","short_text":"

#Ferguson police again using dogs as crowd control weapons, a repugnant tactic on so many levels pic.twitter.com/li...Read More"},{"id":"686","created":"08/19/2014 11:11 PM EDT","title":"Fight Breaks Out At Protest","tweet_link":"686_fight-breaks-out-at-protest","entry_text":"

","short_text":"

Police line backing up in Burger Bar lot. Saw fight start. Just an isolated incident between 2 guys. Didn't involve police. #Ferguson

&mda...Read More"},{"id":"685","created":"08/19/2014 11:00 PM EDT","title":"Clergy Try To Keep The Peace","tweet_link":"685_clergy-try-to-keep-the-peace","entry_text":"

Religious leaders are a frequent sight at Ferguson rallies. Pastor Nelson Watts of the Church of God in Christ in St. Louis was one of the clergymen out on Tuesday, his second night here.

Watts said he and his fellow religious leaders were asked to come by \"the city policemen, the county policemen and the National Guard\" to help keep the peace.

\"What we've been doing is mingling around and letting people know we care, we understand their pain and we feel what they feel. I think that helps a lot,\" Watts told The Huffington Post. \"We go around and shake hands, we hug them, then they see that we understand. We're also mingling with the policemen and letting them know that we care and we're praying for them.\"

-- Amanda Terkel

","short_text":"

Religious leaders are a frequent sight at Ferguson rallies. Pastor Nelson Watts of the Church of God in Christ in St. Louis was one of the clergymen out on Tuesday, his second night here.

Watts said he and his fellow religious leaders were asked...Read More"},{"id":"684","created":"08/19/2014 10:52 PM EDT","title":"PHOTO: State Troopers Guard McDonald's","tweet_link":"684_photo-state-troopers-guard-mcdonalds","entry_text":"

","short_text":"

Highway patrol guarding McDonalds pic.twitter.com/g4Y5ovrcEm

— AdamSerwer (@AdamSerwer) Au...Read More"},{"id":"683","created":"08/19/2014 10:48 PM EDT","title":"Protests Ramp Up In Ferguson But Peace Persists ","tweet_link":"683_protests-ramp-up-in-ferguson-but-peace-persists-","entry_text":"

","short_text":"

Demonstrations have begun in #Ferguson. Everything I've seen and heard so far tonight has been peaceful. pic.tw...Read More"},{"id":"682","created":"08/19/2014 10:46 PM EDT","title":"Support Grows For Darren Wilson","tweet_link":"682_support-grows-for-darren-wilson","entry_text":"

As Ferguson, Missouri streets filled with community members protesting the death of Michael Brown, others began to rally around the officer who killed him.

Darren Wilson shot and killed Michael Brown on August 9th, sparking allegations of racial profiling and excessive force. Wilson has reportedly left Ferguson.

According to Yahoo, people across the country lit their porch lights blue to signify solidarity with Wilson. One activist claimed a Missouri Walmart sold out of blue light bulbs.

","short_text":"

As Ferguson, Missouri streets filled with community members protesting the death of Michael Brown, others began to rally around the officer who killed him.

Darren Wilson shot and killed Michael Brown on August 9th, sparking allegations of racial ...Read More"},{"id":"681","created":"08/19/2014 10:06 PM EDT","title":"CNN: Police Presence Calmer Tonight ","tweet_link":"681_cnn-police-presence-calmer-tonight-","entry_text":"

CNN's Jake Tapper said that the police presence in Ferguson, Missouri seemed much calmer than it had been in previous nights.

Police unleashed tear gas on protesters last night after some people apparently through rocks and bottles at cops. Missouri Governor Jay Nixon announced on Monday afternoon that he was sending the National Guard to Ferguson to help deal with the rising tensions.

","short_text":"

CNN's Jake Tapper said that the police presence in Ferguson, Missouri seemed much calmer than it had been in previous nights.

Police unleashed tear gas on protesters last night after some people apparently through rocks and bottles at cops. Miss...Read More"},{"id":"680","created":"08/19/2014 10:00 PM EDT","title":"Breitbart Reporter Arrested On Monday","tweet_link":"680_breitbart-reporter-arrested-on-monday","entry_text":"

Breitbart News said that one of its reporters was arrested during a protest in Ferguson, Missouri on Monday.

According to Breitbart, Kelly Picket was arrested when a trooper accused her of leaving the designated media area. She was soon released.

","short_text":"

Breitbart News said that one of its reporters was arrested during a protest in Ferguson, Missouri on Monday.

According to Breitbart, Kel...Read More"},{"id":"679","created":"08/19/2014 9:56 PM EDT","title":"Grand Jury To Convene At 9AM Tomorrow ","tweet_link":"679_grand-jury-to-convene-at-9am-tomorrow-","entry_text":"

","short_text":"

Mo. Attorney General Chris Koster said a grand jury will be convened at 9 am tomorrow. He gave protesters the news pic.twitter.com/qbKTzL6xN2

— Yamiche Alcindo...Read More"},{"id":"678","created":"08/19/2014 9:43 PM EDT","title":"PHOTO: Police Truck Arrives At Key Standoff Site ","tweet_link":"678_photo-police-truck-arrives-at-key-standoff-site-","entry_text":"

","short_text":"

Armored vehicle at corner of Florissant and #Ferguson Ave -site of last night's stand-off pic.twitter.com/5Aryy...Read More"},{"id":"677","created":"08/19/2014 9:24 PM EDT","title":"PHOTO: Trucks, Dogs Readied As Protests Ramp Up ","tweet_link":"677_photo-trucks-dogs-readied-as-protests-ramp-up-","entry_text":"

","short_text":"

Armored trucks and police dogs already in place in #Ferguson pic.twitter.com/iZnmIbXRhF

...Read More"},{"id":"676","created":"08/19/2014 9:10 PM EDT","title":"Most People Arrested In Ferguson Not From Missouri ","tweet_link":"676_most-people-arrested-in-ferguson-not-from-missouri-","entry_text":" ","short_text":"

Arrests in #Ferguson last night: Washington DC (1) Illinois (4) Maryland (1) California (1) Virginia (1) New York (4) Al...Read More"},{"id":"675","created":"08/19/2014 8:58 PM EDT","title":"Protesters Help Others With Free Food, Water","tweet_link":"675_protesters-help-others-with-free-food-water","entry_text":"

With temperatures in Ferguson, Mo. reaching highs in the 90s, protesters on Tuesday night were greeted with a pleasant sight. HuffPost reporters snapped photos of multiple people handing out free food, water, and other supplies:

Earlier, people also handed out supplies from hot dogs to diapers and children's books to those in need.

","short_text":"

With temperatures in Ferguson, Mo. reaching highs in the 90s, protesters on Tuesday night were greeted with a pleasant sight. HuffPost reporters snapped photos of mult...Read More"},{"id":"674","created":"08/19/2014 8:51 PM EDT","title":"Spike Lee Lashes Out At Ferguson Police","tweet_link":"674_spike-lee-lashes-out-at-ferguson-police","entry_text":"

Spike Lee lashed out at Ferguson police while speaking to CNN on Tuesday night.

\"I don't believe its a coincidence\" that the day Michael Brown's autopsy was released, reports emerged that Brown may have fought with Darren Wilson, the police officer who shot and killed him.

Lee also said that Ferguson unrest was further proof that racism is still a serious widespread problem in America.

\"There is a war on the black male and it's tearing the country apart,\" he said.

","short_text":"

Spike Lee lashed out at Ferguson police while speaking to CNN on Tuesday night.

\"I don't believe its a coincidence\" that the day Michael Brown's autopsy was released, reports emerged that Brown may have fought with Darren Wilson, the police offic...Read More"},{"id":"673","created":"08/19/2014 8:44 PM EDT","title":"Armored Tanks In Ferguson","tweet_link":"673_armored-tanks-in-ferguson","entry_text":"

CNN's Anderson Cooper reports that armored tanks could be seen in Ferguson as night fell on the embattled Missouri town.

Unrest has shaken Ferguson in the days following the shooting death of a black teenager at the hands of a police officer.

","short_text":"

CNN's Anderson Cooper reports that armored tanks could be seen in Ferguson as night fell on the embattled Missouri town.

Unrest has shaken Ferguson in the days following the shooting death of a black teenager at the hands of a police officer. Read More"},{"id":"672","created":"08/19/2014 8:07 PM EDT","title":"Woman Arrested In Ferguson: Reports ","tweet_link":"672_woman-arrested-in-ferguson-reports-","entry_text":"

","short_text":"

Journalists stop to watch woman getting arrested at W Florissant and #Ferguson. Told to keep moving or we'll get arrested too.

— Ama...Read More"},{"id":"671","created":"08/19/2014 8:03 PM EDT","title":"Streets Blocked Off For Protest ","tweet_link":"671_streets-blocked-off-for-protest-","entry_text":"

","short_text":"

Side streets have double and triple layers of barriers already tonight. No way to drive in.

— Wesley Lowery (@WesleyLowery) A...Read More"},{"id":"670","created":"08/19/2014 8:02 PM EDT","title":"Gov. Nixon Releases Statement About Ferguson ","tweet_link":"670_gov-nixon-releases-statement-about-ferguson-","entry_text":"

Missouri Gov. Jay Nixon (D) released a statement on Tuesday evening about the protests in Ferguson. In it, Nixon defended police, saying that their presence at protests has been to \"protect the people of Ferguson.\"

\"The officers of the Missouri Highway Patrol, St. Louis County, St. Louis City, and other jurisdictions are united in working valiantly to protect the public, while at the same time preserving citizens' rights to express their anger peacefully,\" he said. \"As we've seen over the past week, it is not an easy balance to strike. And it becomes much more difficult in the dark of night, when organized and increasingly violent instigators take to the streets intent on creating chaos and lawlessness.\"

Law enforcement in Ferguson has been criticized for being too aggressive in policing the unrest that has taken place in days following the shooting death of Michael Brown.

","short_text":"

Missouri Gov. Jay Nixon (D) released a statement on Tuesday evening about the protests in Ferguson. In it, Nixon defended police, saying that their presence at protests has been to \"protect the people of Ferguson.\"

\"The officers of the Missouri H...Read More"},{"id":"669","created":"08/19/2014 7:55 PM EDT","title":"Protests Have Been Peaceful So Far","tweet_link":"669_protests-have-been-peaceful-so-far","entry_text":"

","short_text":"

Protests going up and down Florrisant at Canfield in #Ferguson. Peaceful. Purposeful.

— Chris Cuomo (@ChrisCuomo) Read More"},{"id":"668","created":"08/19/2014 7:54 PM EDT","title":"WATCH: Ferguson Protesters Take To The Streets","tweet_link":"668_watch-ferguson-protesters-take-to-the-streets","entry_text":"

","short_text":""},{"id":"667","created":"08/19/2014 7:50 PM EDT","title":"Gov. Nixon Won't Ask Controversial Prosecutor To Step Aside","tweet_link":"667_gov-nixon-wont-ask-controversial-prosecutor-to-step-aside","entry_text":"

Missouri Gov. Jay Nixon (D) won't yet ask for a special prosecutor to replace St. Louis County's Robert McCulloch, according to the St. Louis Post-Dispatch.

\"You have a democratically elected prosecutor,\" Nixon told the paper, adding that he would appoint a special prosecutor if McCulloch felt he should step aside.

A number of local politicians and community leaders have called for McCulloch, who has strong ties to law enforcement and is known in St. Louis as a controversial figure, to step aside. A petition to release him garnered 26,000 signatures.

Last week, McCullouch called Nixon's decision to bring in the State Highway Patrol \"shameful\" and \"disgraceful,\" saying he didn't have the legal authority to do so.

Nixon released a statement to the press on Tuesday confirming his decision on McCulloch:

"From the outset, I have been clear about the need to have a vigorous prosecution of this case, and that includes minimizing any potential legal uncertainty. I am not asking St. Louis County Prosecutor Bob McCullough to recuse himself from this case. There is a well-established process by which a prosecutor can recuse themselves from a pending investigation, and a special prosecutor be appointed. Departing from this established process could unnecessarily inject legal uncertainty into this matter and potentially jeopardize the prosecution."

","short_text":"

Missouri Gov. Jay Nixon (D) won't yet ask for a special prosecutor to replace St. Louis County's Robert McCulloch, according to Read More"},{"id":"666","created":"08/19/2014 7:34 PM EDT","title":"Ferguson Pol: 'This Has Brought Out The Best In The Community'","tweet_link":"666_ferguson-pol-this-has-brought-out-the-best-in-the-community","entry_text":"

Even as Ferguson, Missouri, has been rocked by night after night of protests and police clashes, Patricia Bynes, the local Democratic committeewoman, said that many local residents have come together to help each other and try to prevent further violence.

\"I saw a woman walking around last night during the protests, and do you know what she had in her hands? A gallon of milk,\" Bynes told The Huffington Post on Tuesday. \"And people were like, 'What are you doing with that milk?' And she said, 'This is to help people who get tear-gassed.'\"

\"Everybody has their weapon of choice,\" Bynes said. For some, it's waving protest signs. For others, it's providing food or car rides. For others, it's helping those who have been tear-gassed.

\"Last night, she was my hero,\" Bynes said, \"the lady with the milk.\"

It's been \"heart-wrenching\" to watch police fire tear gas and smoke bombs into the backyards of her constituents, Bynes said.

\"I've lived in the area for about 14 years,\" she added. \"These are my stores that I go to, my gas station that I frequent. They're part of my every day. And the people who work in these places are familiar faces.\"

Yet the response by the community, she said, has been inspiring. \"This has brought out the best in the community. I've seen people without even thinking just step up and start doing the right thing.\"

Sasha Belenky

","short_text":"

Even as Ferguson, Missouri, has been rocked by night after night of protests and police clashes, Patricia Bynes, the local Democratic committeewoman, said that many local residents have come together to help each other and try to prevent further violen...Read More"},{"id":"665","created":"08/19/2014 7:30 PM EDT","title":"When Cops Shoot, They're Trained To Kill. They Never Shoot To Wound.","tweet_link":"665_when-cops-shoot-theyre-trained-to-kill-they-never-shoot-to-wound","entry_text":"

HuffPost's Sabrina Siddiqui reports:

The fatal shooting of a man by police on Tuesday near St. Louis kept the spotlight on law enforcement's use of deadly force as protests continue in nearby Ferguson over the police shooting death of teenager Michael Brown.

The two shootings bear little resemblance. Brown was an unarmed teen who, according to eyewitnesses, was trying to surrender when a police officer shot him at least six times. The man killed on Tuesday, whose name hasn't been released, was wielding a knife, according to police. When he refused officers' orders to put down his weapon and walked toward them, they shot him to death, police said.

As tensions continue to flare over Brown's death, many question the circumstances under which the law justifies a police officer's use of deadly force. When faced with a perceived threat, why don't officers shoot to wound rather than shoot to kill?

The reason, according to law enforcement officials and experts on police accountability, is simple: Officers have long been trained to shoot to kill because that is the only way they say they can neutralize a threat. The idea of shooting someone in a limb is fiction.

HuffPost's Sabrina Siddiqui reports:

The fatal shooting of a man by police on Tuesday near St. Louis kept the spotli...Read More"},{"id":"664","created":"08/19/2014 7:19 PM EDT","title":"Egypt Urges 'Restraint' In Ferguson ","tweet_link":"664_egypt-urges-restraint-in-ferguson-","entry_text":"

From HuffPost's Sophia Jones:

ISTANBUL — Egypt is no stranger to American criticism. With the spirit of revolutionary protest snuffed out, the country has received a mouthful of ridicule from the U.S. government and other countries (but little action).

As attention is now turned to America's own backyard, with protests raging in Ferguson over the police killing of an unarmed black teen, Egypt's Ministry of Foreign Affairs sent out a statement to press urging "restraint and respect for the right of assembly and peaceful expression of opinion".

It's a bold statement, considering its now shaky relationship with the United States, a longtime financier of the Egyptian military, and Egypt's own bleak human rights record.

More from Sophia Jones here.

","short_text":"

From HuffPost's Sophia Jones:

ISTANBUL — Egypt is no stranger to American criticism. With the spirit of revolu...Read More"},{"id":"663","created":"08/19/2014 7:15 PM EDT","title":"7 People Have Been Shot During Ferguson Unrest So Far","tweet_link":"663_7-people-have-been-shot-during-ferguson-unrest-so-far","entry_text":"

","short_text":"

At least SEVEN people have been shot in Ferguson during protests or street clashes: Tuesday (8/12): 2 Saturday: 1 Sunday: 2 Monday: 2

— Matt Pearce (@mattdpearce) Read More"},{"id":"662","created":"08/19/2014 6:58 PM EDT","title":"Paul Ryan Weighs In On Michael Brown Case","tweet_link":"662_paul-ryan-weighs-in-on-michael-brown-case","entry_text":"

WASHINGTON -- Rep. Paul Ryan (R-Wis.) waded into the Ferguson, Missouri controversy on Tuesday and said the best way to bring about resolution is to let law enforcement do whatever it needs to do.

\"We should take a deep breath, sit back and let law enforcement do their job,\" he said during an interview with SiriusXM's David Webb. \"Let the investigation take place so that the facts can be taken as the facts and let justice be done appropriately.\"

Ryan, a potential 2016 presidential contender, said his thoughts are with the family of Michael Brown, the unarmed black teenager who was fatally shot on Aug. 9 by a white police officer -- an incident that has since sparked nightly clashes between local police and protesters. But in terms of next steps, the Wisconsin Republican said people should step aside to let law enforcement carry out their responsibilities.

\"I think it's wrong to prejudge the outcome of these things or to try and attach our own personal political agenda to this tragedy,\" he said. \"It would be disrespectful to this tragedy and the community and to the family, so I think as a public and as leaders, let's let law enforcement do their job.\"

Jen Bendery

","short_text":"

WASHINGTON -- Rep. Paul Ryan (R-Wis.) waded into the Ferguson, Missouri controversy on Tuesday and said the best way to bring about resolution is to let law enforcement do whatever it needs to do.

\"We should take a deep breath, sit back and let l...Read More"},{"id":"661","created":"08/19/2014 6:54 PM EDT","title":"Gov. Nixon Won't Ask Controversial Prosecutor To Step Aside","tweet_link":"661_gov-nixon-wont-ask-controversial-prosecutor-to-step-aside","entry_text":"

","short_text":"

@GovJayNixon, sitting next to me, says he won't ask McCulloch to recuse right now unless McC asks first. Read More"},{"id":"660","created":"08/19/2014 6:53 PM EDT","title":"Veteran Cop: 'If You Don't Want To Get Shot,' Shut Up","tweet_link":"660_veteran-cop-if-you-dont-want-to-get-shot-shut-up","entry_text":"

Sunil Dutta, a 17-year veteran of the Los Angeles Police Department and professor of homeland security at Colorado Tech University, has a suggestion for victims of police violence searching for someone to blame: Look in the mirror.

In a column published Tuesday in The Washington Post titled, \"I'm a cop. If you don't want to get hurt, don't challenge me,\" Dutta responds to mounting criticism of the policing tactics on display in Ferguson, Missouri, amid the hyper-militarization of law enforcement and accusations that officers have violated the First Amendment rights of both demonstrators and journalists covering the events. In a particularly telling passage, Dutta argues that citizens could deter police brutality if they were simply more cooperative, even when they're unjustly targeted.

\"Even though it might sound harsh and impolitic, here is the bottom line: if you don't want to get shot, tased, pepper-sprayed, struck with a baton or thrown to the ground, just do what I tell you,\" he writes. \"Don't argue with me, don't call me names, don't tell me that I can't stop you, don't say I'm a racist pig, don't threaten that you'll sue me and take away my badge. Don't scream at me that you pay my salary, and don't even think of aggressively walking towards me. Most field stops are complete in minutes. How difficult is it to cooperate for that long?\"

Nick Wing

","short_text":"

Sunil Dutta, a 17-year veteran of the Los Angeles Police Department and professor of homeland security at Colorado Tech University, Read More"},{"id":"659","created":"08/19/2014 6:37 PM EDT","title":"REPORT: Hagel Has Authority To Halt Defense Program That Arms Police","tweet_link":"659_report-hagel-has-authority-to-halt-defense-program-that-arms-police","entry_text":"

Secretary of Defense Chuck Hagel could halt a program that sends surplus military equipment to local law enforcement agencies, The Hill reported Tuesday.

A Pentagon spokesman, Rear Adm. John Kirby, said the Defense Department has not made any decision to suspend the program -- but that Hagel ultimately has the authority to do so.

The federal government has also provided grants to local police departments that have allowed them to buy billions of dollars' worth of military equipment. Critics say the policy has contributed to increasingly militarized police forces around the country.

David McCabe

","short_text":"

Secretary of Defense Chuck Hagel could halt a program that sends surplus military equipment to local law enforcement agencies, T...Read More"},{"id":"658","created":"08/19/2014 6:31 PM EDT","title":"Public Memorial Service For Michael Brown Set For Monday","tweet_link":"658_public-memorial-service-for-michael-brown-set-for-monday","entry_text":"

Anthony Gray, one of the Brown family attorneys, announced the public memorial service for Michael will be held Monday morning, St. Louis Post-Dispatch reports.

A location has yet to be specified for the services, but Gray said it would likely start between 10 a.m. and 11 a.m.

The funeral and memorial service costs will be covered in full by the Alpha Phi Alpha Fraternity Inc., who requested they hold exclusive financial responsibility despite other offers to help with expenses.

Read more here

","short_text":"

Anthony Gray, one of the Brown family attorneys, announced the public memorial service for Michael will be held Monday morning, Read More"},{"id":"657","created":"08/19/2014 6:26 PM EDT","title":"Police Officer Under Review For FB Posts","tweet_link":"657_police-officer-under-review-for-fb-posts","entry_text":"

A Kansas City police officer is under review for

href=\"http://www.huffingtonpost.com/2014/08/19/marc-catron-michael-brown_n_5692693.html?1408484058\"

target=\"_hplink\">alleged racist Facebook posts

about Michael Brown and

demonstrators in Ferguson.

Officials launched a review after Kansas City cop Marc Catron allegedly posted

that, \"I'm sure young Michael Brown is innocent and just

misunderstood. I'm sure he's a pillar of the Ferguson community,\" and

shared a photo of a black man holding what looks likes cash in his

mouth and a gun in his hand.

The photo is not of Brown, as many have claimed, and is

target=\"_hplink\">actually of an Oregon man

accused of killing his

great-grandmother.

","short_text":"

A Kansas City police officer is under review for \nhref=\"http://www.huffingtonpost.com/2014/08/19/marc-catron-michael-brown_n_5692693.html?1408484058\"
\ntarget=\"_hplink\">alleged racist Facebook posts

about Michael Brown and
\ndemonst...Read More"},{"id":"656","created":"08/19/2014 6:05 PM EDT","title":"Tanks In Ferguson ","tweet_link":"656_tanks-in-ferguson-","entry_text":"

","short_text":"

Missouri pic.twitter.com/dVMP5lRCSW

— Jake Tapper (@jaketapper) August 19, 2014

Read More"},{"id":"655","created":"08/19/2014 5:56 PM EDT","title":"Michael Brown Case Goes To Grand Jury","tweet_link":"655_michael-brown-case-goes-to-grand-jury","entry_text":"

","short_text":"

Michael Brown shooting case to go before grand jury Wednesday: http://t.co/oQ2S00e4Zq via @STLtoday Read More"},{"id":"654","created":"08/19/2014 5:44 PM EDT","title":"STL Mayor: Tuesday's Shooting Not Related To Ferguson","tweet_link":"654_stl-mayor-tuesdays-shooting-not-related-to-ferguson","entry_text":"

St. Louis Mayor Francis Slay said that the officer shooting of a 23-year-old man on Tuesday did not appear to be related to the unrest in Ferguson over the death of Mike Brown. He made his comments in a press conference on Tuesday afternoon.

","short_text":"

St. Louis Mayor Francis Slay said that the officer shooting of a 23-year-old man on Tuesday did not appear to be related to the unrest in Ferguson over the death of Mike Brown. He made his comments in a press conference on Tuesday afternoon.

"},{"id":"653","created":"08/19/2014 5:42 PM EDT","title":"Holder Gives Details On Federal Investigation ","tweet_link":"653_holder-gives-details-on-federal-investigation-","entry_text":"

","short_text":"

Holder: Approx. 40 FBI agents and some of the Civil Rights Division's most experienced prosecutors have been deployed to lead this process

— Nancy Cambria (@nanecam) Read More"},{"id":"652","created":"08/19/2014 5:23 PM EDT","title":"Holder Pens Op-Ed For Ferguson","tweet_link":"652_holder-pens-oped-for-ferguson","entry_text":"

Attorney General Eric Holder wrote an op-ed in the St. Louis Post-Dispatch on Tuesday. In it, he promised a \"fair\" and \"independent\" investigation into the death of Michael Brown. He also urged the community to steer away from violence in protests.

\"The Justice Department will defend the right of protesters to peacefully demonstrate and for the media to cover a story that must be told. But violence cannot be condoned,\" he said.

","short_text":"

Attorney General Eric Holder wrote an op-ed in the St. Louis Post-Dispatch on Tuesday. In it, he p...Read More"},{"id":"651","created":"08/19/2014 5:04 PM EDT","title":"Ferguson Hired Officer With History Of Allegedly Hitting Children","tweet_link":"651_ferguson-hired-officer-with-history-of-allegedly-hitting-children","entry_text":"

HuffPost's Matt Sledge reports:

He resigned from St. Louis city police under a cloud of suspicion. Missouri tried to make sure he couldn't walk the beat. But one officer with a history of allegations of hitting children found a willing employer in the Ferguson Police Department.

The saga of Eddie Boyd III underlines the troubles surrounding Ferguson's tiny police force, which has been engulfed in controversy ever since one of its officers shot 18-year-old Michael Brown on Aug. 9.

In a city where the killing of an unarmed black teenager by a white cop has revealed profound racial tensions, Boyd's story represents an anomaly: he is one of just three African-American police officers in a department of 53.

But that doesn't mean he's an exception in other ways. Citing Boyd and other examples, critics claim that Ferguson and the St. Louis area in general have serious problems with police accountability.

\"Americans love a second chance,\" said Matthew Devoti, a civil rights lawyer who represented one teen in a failed lawsuit against Boyd. \"The question, I guess, is 'When is enough, enough?'\"

Read

\" target=\"_hplink\">more here.

","short_text":"

HuffPost's Matt Sledge reports:

He resigned from St. Louis city police under a cloud of suspicion. Missouri tried t...Read More"},{"id":"650","created":"08/19/2014 4:24 PM EDT","title":"Missouri State Senator: Ferguson Police Manhandled Pregnant Woman","tweet_link":"650_missouri-state-senator-ferguson-police-manhandled-pregnant-woman","entry_text":"

HuffPost's Alex Lazar reports:

Missouri state Sen. Maria Chappelle-Nadal (D) told a disturbing story of what she alleges Ferguson police did to a pregnant woman during an interview with MSNBC's Joy Reid on Tuesday.

\"There are a lot of people in this community who have been abused, who have been intimidated, who have been forced to do things that they don't want to do,\" Chappelle-Nadal told Reid.

\"A great example is this six-month-pregnant woman who was gassed the same day as I was. And she was forced face-down to the ground, and the police officer said, 'Get down, face down on the ground.' She's six months pregnant, and that's the way basically my community has been treated, not just in the last 11 days, but for quite a long time,\" she added.

HuffPost's Alex Lazar reports:

Missouri state Sen. Maria Chappelle-Nadal (D) told a disturbing story of what she al...Read More"},{"id":"649","created":"08/19/2014 4:21 PM EDT","title":"Anger Grows Against Non-Local Protesters ","tweet_link":"649_anger-grows-against-nonlocal-protesters-","entry_text":"

","short_text":"

Overheard: "They are leading these kids to be slaughtered," said about out-of-town agitators/professional protestors. #Ferguson

&mda...Read More"},{"id":"648","created":"08/19/2014 3:44 PM EDT","title":"Journalist With Controversial Report Backtracks ","tweet_link":"648_journalist-with-controversial-report-backtracks-","entry_text":"

A St. Louis-area reporter who said on Monday that police told her several witnesses backed up Darren Wilson's claim that Michael Brown acted aggressively backtracked on Tuesday.

\"On FMLA from paper. Earlier tweets did not meet standards for publication,\" she said.

St. Louis Post-Dispatch, where Byers works, told Business Insider that \"she is not involved in the Ferguson coverage while she is on leave. Her tweets are personal.\"

","short_text":"

A St. Louis-area reporter who said on Monday that police told her several witnesses backed up Darren Wilson's claim that Michael Brown acted aggressively backtracked on Tuesday...Read More"},{"id":"647","created":"08/19/2014 3:43 PM EDT","title":"Journalist With Controversial Report Backtracks ","tweet_link":"647_journalist-with-controversial-report-backtracks-","entry_text":"

A St. Louis-area reporter who said on Monday that police told her several witnesses backed up Darren Wilson's claim that Michael Brown acted aggressively backtracked on Tuesday.

\"On FMLA from paper. Earlier tweets did not meet standards for publication,\" she said.

St. Louis Post-Dispatch, where Byers works, told Business Insider that \"she is not involved in the Ferguson coverage while she is on leave. Her tweets are personal.\"

","short_text":"

A St. Louis-area reporter who said on Monday that police told her several witnesses backed up Darren Wilson's claim that Michael Brown acted aggressively backtracked on Tuesday...Read More"},{"id":"646","created":"08/19/2014 3:26 PM EDT","title":"10 Ways You Can Help The People Of Ferguson","tweet_link":"646_10-ways-you-can-help-the-people-of-ferguson","entry_text":"

HuffPost's Shadee Ashtari reports:

On Aug. 9, Ferguson, Missouri, police officer Darren Wilson fatally shot unarmed black teen Michael Brown at least six times, including twice in the head.

The shooting, followed by the Ferguson Police Department's refusal to release an incident report detailing the circumstances leading to Brown's death, has sparked ongoing unrest in an area long fraught with racial tension.

An aggressive response by Ferguson police, including the deployment of rubber bullets and tear gas on protesters, has also sparked a national debate over the increasing militarization of local law enforcement.

Americans nationwide have responded in solidarity, holding vigils and demonstrations in Brown's honor.

Here are a few ways you can help, even if you're not in Ferguson:

Read more here.

","short_text":"

HuffPost's Shadee Ashtari reports:

On Aug. 9, Ferguson, Missouri, police officer Darren Wilson fatally shot unarmed black teen...Read More"},{"id":"645","created":"08/19/2014 3:18 PM EDT","title":"WATCH: Protesters Confront Police After Shooting","tweet_link":"645_watch-protesters-confront-police-after-shooting","entry_text":"

MSNBC reporter Amanda Sakuma posted a video of protesters in St. Louis, Missouri. engaging with police following the fatal shooting of a 23-year-old man. The man allegedly attacked police with a knife.

","short_text":"

MSNBC reporter Amanda Sakuma posted a video of protesters in St. Louis, Missouri. engaging with police following the fatal shooting of a 23-...Read More"},{"id":"644","created":"08/19/2014 3:16 PM EDT","title":"Police Chief:Two Officers Fired Weapons","tweet_link":"644_police-chieftwo-officers-fired-weapons","entry_text":"

","short_text":"

Officers are on administrative duty per department policy. The investigation continues.

— Chief Sam Dotson (@ChiefSLMPD) August...Read More"},{"id":"643","created":"08/19/2014 3:05 PM EDT","title":"Neighbors: Victim Mentally Challenged","tweet_link":"643_neighbors-victim-mentally-challenged","entry_text":"

","short_text":"

Neighborhood people saying he was mentally challenged. Saying "Hands up! don't shoot!" Tense bad scene here.

— Christopher Hayes (@chrislhayes) Read More"},{"id":"642","created":"08/19/2014 3:03 PM EDT","title":"Angry Neighbors Congregating","tweet_link":"642_angry-neighbors-congregating","entry_text":"

","short_text":"

Police say 23 yo acting erratically, and charged police with a knife and define orders. Neighborhood now congregating, angry.

— Christopher Hayes (@chrislhayes) Read More"},{"id":"641","created":"08/19/2014 3:01 PM EDT","title":"St. Louis Police Chief On Why Officers Shot Suspect","tweet_link":"641_st-louis-police-chief-on-why-officers-shot-suspect","entry_text":"

\"Our policy is at the end of the day, the officer should be able to go home. if a person is charging you with a knife, that's a lethal range.\"

","short_text":"

\"Our policy is at the end of the day, the officer should be able to go home. if a person is charging you with a knife, that's a lethal range.\"
\n

"},{"id":"640","created":"08/19/2014 3:00 PM EDT","title":"St. Louis Police Chief On Details Of Attack","tweet_link":"640_st-louis-police-chief-on-details-of-attack","entry_text":"

","short_text":"

St. Louis police chief: Suspect shot dead by officers today had knife, said "shoot me, kill me now" pic.twitter.com/up7Fx81DJr

— Jon Passantino (@passan...Read More"},{"id":"639","created":"08/19/2014 2:56 PM EDT","title":"Press Conference On New Shooting Happening Now","tweet_link":"639_press-conference-on-new-shooting-happening-now","entry_text":"

Watch here.

","short_text":"

Watch here.

"},{"id":"638","created":"08/19/2014 2:54 PM EDT","title":"Witness: Victim Stole Soda, Put It Back","tweet_link":"638_witness-victim-stole-soda-put-it-back","entry_text":" ","short_text":"

Eye witness tells me the deceased victim stole soda from Six Star Market but put it back.

— Adrienne Broaddus (@abroaddus) Augus...Read More"},{"id":"637","created":"08/19/2014 2:46 PM EDT","title":"Another Photo From Scene Of New Shooting","tweet_link":"637_another-photo-from-scene-of-new-shooting","entry_text":"

","short_text":"

An officer involved shooting about 10 minutes from where #MikeBrown was killed. Location Riverview and McLaran Ave. Read More"},{"id":"636","created":"08/19/2014 2:44 PM EDT","title":"Photo From Scene At New Police Shooting","tweet_link":"636_photo-from-scene-at-new-police-shooting","entry_text":"

","short_text":"

Photo from officer involved shooting on Riverview in North St. Louis. #KSDK pic.twitter.com/QRjW9ZrvJl

&mdash...Read More"},{"id":"635","created":"08/19/2014 2:40 PM EDT","title":"CNN Confirms Officer-Involved Shooting","tweet_link":"635_cnn-confirms-officerinvolved-shooting","entry_text":"

","short_text":"

#CNN confirms there has been an officer involved shooting in St. Louis. The police chief tweeted "No officers injured."

— sgallman (@s...Read More"},{"id":"634","created":"08/19/2014 2:38 PM EDT","title":"1 Dead In Police-Involved Shooting","tweet_link":"634_1-dead-in-policeinvolved-shooting","entry_text":"

From KDSK:

The shooting happened near Riverview Boulevard and McLaran Avenue. St. Louis Police Chief Sam Dotson says the suspect pulled a knife on officers. No officers were injured.

Read more here.

","short_text":"

From KDSK:

The shooting happened near Riverview Boulevard and McLaran Avenue. St. Louis Police Chief Sam Dotson says the suspect pulled a knife on officers. No officers were injured.

Read more Read More"},{"id":"633","created":"08/19/2014 2:13 PM EDT","title":"Ferguson Mayor: 'There's Not A Racial Divide In Ferguson'","tweet_link":"633_ferguson-mayor-theres-not-a-racial-divide-in-ferguson","entry_text":"

The mayor of Ferguson, Missouri, says there's no racial split in his community and that nearly all residents would agree with him, despite over a week of violent clashes between protesters and police over the death of Michael Brown, an unarmed black teenager fatally shot by a white police officer.

\"There's not a racial divide in the city of Ferguson,\" Mayor James Knowles said Tuesday in an interview on MSNBC's \"NewsNation\" with Tamron Hall. \"That is the perspective of all residents in our city. Absolutely.\"

Read the report and watch the video here.

-- Jennifer Bendery

","short_text":"

The mayor of Ferguson, Missouri, says there's no racial split in his community and that nearly all residents would agree with him, despite over a week of violent clashes between protesters and police over the death of Michael Brown, an unarmed black te...Read More"},{"id":"632","created":"08/19/2014 2:13 PM EDT","title":"Pastor On Front Lines Breaks Down Different Kinds Of Protesters","tweet_link":"632_pastor-on-front-lines-breaks-down-different-kinds-of-protesters","entry_text":"

St. Louis Alderman Antonio French tweeted out this video on Tuesday, showing Pastor Renita Lamkin explaining the various groups of people taking to the streets of Ferguson. They include, protesters, demonstrators, forceful \"liberators,\" rioters who use violence, inciters, looters and thieves, Lamkin said, explaining that they aren't so hard to tell apart if you try. Her explanation was a response to Ferguson Police Chief Thomas Jackson, who earlier suggested that officers couldn't tell the different people apart as they attempted to disperse crowds with tear gas and rubber bullets.

","short_text":"

St. Louis Alderman Antonio French tweeted out this video on Tuesday, showing Pastor Renita Lamkin explaining the various groups of people taking to the streets o...Read More"},{"id":"631","created":"08/19/2014 1:50 PM EDT","title":"Missouri State Senator Reminds Police, 'We Have A First Amendment Right'","tweet_link":"631_missouri-state-senator-reminds-police-we-have-a-first-amendment-right","entry_text":"

HuffPost's Christine Conetta reports:

Missouri state Sen. Maria Chappelle-Nadal strongly believes in the rights to free speech and assembly.

\"We have a First Amendment right. I support the First Amendment like crazy gun people support the Second Amendment, and I'll do anything for the First Amendment,\" said Chappelle-Nadal, a Democrat.

The lawmaker, whose district includes Ferguson, has been a prominent voice on West Florissant Avenue, the street where protests and riots have been happening ever since 18-year-old Michael Brown was shot and killed by police officer Darren Wilson.

Read more here.

","short_text":"

HuffPost's Christine Conetta reports:

Missouri state Sen. Maria Chappelle-Nadal strongly believes in the rights to...Read More"},{"id":"630","created":"08/19/2014 1:47 PM EDT","title":"Video Of Alderman Antonio French Decking An Agitator","tweet_link":"630_video-of-alderman-antonio-french-decking-an-agitator","entry_text":"

Via Ryan Reilly:

","short_text":"

Via Ryan Reilly:

"},{"id":"629","created":"08/19/2014 1:31 PM EDT","title":"Hillary Clinton Is Everywhere, But Still Nowhere To Be Found On Ferguson","tweet_link":"629_hillary-clinton-is-everywhere-but-still-nowhere-to-be-found-on-ferguson","entry_text":"

HuffPost's Samantha Lachman reports:

Former Secretary of State Hillary Clinton isn't exactly hiding from the public eye as she plans a trip to Iowa, furthering speculation about whether and when she'll announce plans to seek the 2016 Democratic presidential nomination. Yet, Clinton hasn't said a word about protests in Ferguson, Missouri, following the Aug. 9 shooting of Michael Brown, an unarmed black teenager, by a police officer.

Clinton's silence has provoked questions about why she's mum on an issue that other possible 2016 presidential candidates have felt compelled to weigh in on.

Read more here.

","short_text":"

HuffPost's Samantha Lachman reports:

Former Secretary of State Hillary Clinton isn't exactly hiding from the public eye as...Read More"},{"id":"628","created":"08/19/2014 1:20 PM EDT","title":"Ferguson City Leadership Calls For End To Nightly Protests","tweet_link":"628_ferguson-city-leadership-calls-for-end-to-nightly-protests","entry_text":"

HuffPost's Amanda Terkel reports:

The city of Ferguson, Missouri, called for calm Tuesday, asking its residents to stop the protests that have been going on each night since a police officer shot and killed Michael Brown, an unarmed African-American teenager, on Aug. 9.

\"It is our hope that as we continue to work for the well-being of Ferguson, residents will stay home at night, allow peace to settle in, and allow for the justice process to take its course,\" said the city leadership in a press release.

Read more here.

","short_text":"

HuffPost's Amanda Terkel reports:

The city of Ferguson, Missouri, called for calm Tuesday, asking its residents to...Read More"},{"id":"627","created":"08/19/2014 12:01 PM EDT","title":"Bar Association Calls On Prosecutor To Recuse Himself From Ferguson Investigation","tweet_link":"627_bar-association-calls-on-prosecutor-to-recuse-himself-from-ferguson-investigation","entry_text":"

HuffPost's Igor Bobic reports:

One of the oldest African-American bar associations in the country is calling on the Missouri prosecutor who is overseeing an investigation into the fatal shooting of 18-year-old Michael Brown to recuse himself.

The Mound City Bar Association is concerned that St. Louis County Prosecuting Attorney Bob McCulloch's family ties with St. Louis' police department may impact his ability to conduct an impartial investigation. The prosecutor's father, mother, brother, uncle and cousin have all worked for the department, and his father was killed while responding to a call involving a black suspect, according to CBS News.

HuffPost's Igor Bobic reports:

One of the oldest African-American bar associations in the country is calling on the...Read More"},{"id":"626","created":"08/19/2014 11:15 AM EDT","title":"Grand Jury Probe Into Shooting Starting On Wednesday","tweet_link":"626_grand-jury-probe-into-shooting-starting-on-wednesday","entry_text":"

That's according to a Bloomberg report.

","short_text":"

That's according to a Bloomberg report.
\n

"},{"id":"625","created":"08/19/2014 10:53 AM EDT","title":"Ray Kelly Critical Of Police Response","tweet_link":"625_ray-kelly-critical-of-police-response","entry_text":"

In an interview with Bloomberg, Ex-NYPD Police Commissioner Ray Kelly said that police in Ferguson could quell unrest by releasing more information about the shooting death of Michael Brown. He also said that the National Guard shouldn't be used as a primary police force in Ferguson. "These are people who are, generally speaking, not trained in policing tactics," Kelly said. "The toothpaste is out of the tube here," Kelly went on. "There's lots of things that should have been done differently, and you have to live with them."

Read more here.

","short_text":"

In an interview with Bloomberg, Ex-NYPD Police Commissioner Ray Kelly said that police in Ferguson could quell unrest b...Read More"},{"id":"624","created":"08/19/2014 10:35 AM EDT","title":"The Ferguson Cleanup Crew","tweet_link":"624_the-ferguson-cleanup-crew","entry_text":"

","short_text":"

Lots of people out to clean up #Ferguson pic.twitter.com/h4HzKpRy1f

— Ryan J. Reilly (@ryanjreilly)...Read More"},{"id":"623","created":"08/19/2014 10:00 AM EDT","title":"Inspiring Scenes Of Kindness In Ferguson","tweet_link":"623_inspiring-scenes-of-kindness-in-ferguson","entry_text":"

HuffPost's Sasha Belenky reports:

Following the death of Michael Brown, an African-American teenager, at the hands of a white police officer on Aug. 9, police in Ferguson, Missouri, have cracked down on protesters with tear gas and rubber bullets.

Amid the chaos, however, there have also been inspiring scenes of kindness and generosity. Here are some of the ways people are helping each other in Ferguson.

HuffPost's Sasha Belenky reports:

Following the death of Michael Brown, an African-American teenager, at the hands of a white ...Read More"},{"id":"622","created":"08/19/2014 9:57 AM EDT","title":"Police Captain: Media Glamorizes 'Criminal Element' In Ferguson","tweet_link":"622_police-captain-media-glamorizes-criminal-element-in-ferguson","entry_text":"

Missouri Highway Patrol Capt. Ron Johnson chided the media on Tuesday for exacerbating protests over the death of Michael Brown in Ferguson, Mo.

In an interview with MSNBC, Johnson spoke positively about the work journalists have been doing documenting the protests. But he said that they sometimes contributed to the problem.

\"When a certain element, that criminal element that got out here with masks on who wanted to agitate and build up the crowd would stop in front of the media,\" he said. \"The media would swarm around them, give them a platform and glamorize their activity. The crowd would stop and then before the crowd....now those criminals would begin to throw things out of the crowd that were standing within the media.\"

Four more journalists were arrested Monday night as clashes continued between protesters and law enforcement.

-- Igor Bobic

","short_text":"

Missouri Highway Patrol Capt. Ron Johnson chided the media on Tuesday for exacerbating protests over the death of Michael Brown in Ferguson, Mo.

In an interview with MSNBC, Johnson spoke positively about the work journalists have been doing docum...Read More"},{"id":"621","created":"08/19/2014 9:50 AM EDT","title":"Reporter Who Was Arrested Last Night Is Released","tweet_link":"621_reporter-who-was-arrested-last-night-is-released","entry_text":"

","short_text":"

Out of jail. Too many still in there. Phone is dying, be back soon.

— Ryan Devereaux (@rdevro) August 19, 2014

...Read More"},{"id":"620","created":"08/19/2014 8:37 AM EDT","title":"Who Are The Protesters?","tweet_link":"620_who-are-the-protesters","entry_text":"

The Washington Post's Emily Wax-Thibodeaux and Deneen L. Brown take a look at the various factions that have made their presence known since Ferguson became a flash point last week:

Each evening, hundreds gather along West Florissant in what has become the most visible and perilous ritual of this St. Louis suburb's days of frustration following Brown's death. Dozens have been arrested, many injured by tear-gas canisters and rubber bullets fired by a police force dressed in riot gear and armed with assault rifles.

But the demonstrators are as diverse as their grievances — and in their methods of addressing them.

Some of the men are from the area — Ferguson or surrounding towns also defined in part by the gulf separating the mostly white law enforcement agencies from a mistrusting African American public. Many others — it is hard to quantify the percentage — have arrived by bus and by car from Chicago, Detroit, Brooklyn and elsewhere.

They will not give their names. But their leaders say they are ready to fight, some with guns in their hands. "This is not the time for no peace," said one man, a 27-year-old who made the trip here from Chicago.

Read the whole thing here.

","short_text":"

The Washington Post's Emily Wax-Thibodeaux and Deneen L. Brown Read More"},{"id":"619","created":"08/19/2014 8:29 AM EDT","title":"The Journalist Arrest Count","tweet_link":"619_the-journalist-arrest-count","entry_text":"

","short_text":"

I count 4 journalists arrested last night/overnight -- Getty photog, two German reporters and @rdevro. Anyone else? Writing CNN story...

— Brian Stelter (@...Read More"},{"id":"618","created":"08/19/2014 8:17 AM EDT","title":"This Morning's Stunning Front Page Of The St. Louis-Dispatch","tweet_link":"618_this-mornings-stunning-front-page-of-the-st-louisdispatch","entry_text":"

","short_text":"

Incredible photo on front page of @stltoday - like something out of sci-fi not streets of America. #Ferguson<...Read More"},{"id":"617","created":"08/19/2014 6:28 AM EDT","title":"A Moment Of Quiet","tweet_link":"617_a-moment-of-quiet","entry_text":"

","short_text":"

One of the rare moments in the last week and three days that West Florissant Ave. is quiet. #Ferguson pic.twitter.c...Read More"},{"id":"616","created":"08/19/2014 6:26 AM EDT","title":"Is The Purpose Of The Protests Being Lost?","tweet_link":"616_is-the-purpose-of-the-protests-being-lost","entry_text":"

","short_text":"

I've been in #Ferguson 6 hours overnight & I've maybe heard the name #MikeBrown...Read More"},{"id":"615","created":"08/19/2014 5:38 AM EDT","title":"#FeedFerguson Raises Over $71,000","tweet_link":"615_feedferguson-raises-over-71000","entry_text":"

A campaign launched on Aug. 14 to help the St. Louis Foodbank has already raised more than $71,000, KSDK reported.

Julianna Mendelsohn, a school teacher from Raleigh, said she launched the campaign because she was concerned area children kept from their schools by the unrest would not have enough to eat.

\"When I found out school had been canceled for several days as a result of the civil unrest, I immediately became worried for the students in households with food instability,\" Mendelsohn wrote on the site. \"With school out, kids are undoubtedly going hungry.\"

Click here for more.

","short_text":"

A campaign launched on Aug. 14 to help the St. Louis Foodbank has already Read More"},{"id":"614","created":"08/19/2014 5:22 AM EDT","title":"Missouri Reporter Criticizes Some Journalists' Behavior","tweet_link":"614_missouri-reporter-criticizes-some-journalists-behavior","entry_text":"

","short_text":"

Capt. Johnson critical of the media tonight and I don't blame him. Saw a lot of unprofessionalism among journalists I did not recognize

— Stephanie Diffin (@DiffinKSDK) Read More"},{"id":"613","created":"08/19/2014 4:26 AM EDT","title":"Guns, Molotov Cocktail Seized By Police","tweet_link":"613_guns-molotov-cocktail-seized-by-police","entry_text":"

These are the guns and molotov cocktail displayed by Missouri Highway Patrol Capt. Ron Johnson during his early morning press conference. These items were confiscated from a car parked near the police command center.

Johnson shared these items to justify some of the officers' heavy-handed conduct.

","short_text":"

These are the guns and molotov cocktail displayed by Missouri Highway Patrol Capt. Ron Johnson during his early morning press conference. These items were confiscated from a car parked near the police command center.

Johnson shared these items t...Read More"},{"id":"612","created":"08/19/2014 4:13 AM EDT","title":"Police Call For Peaceful Demonstrations… During The Day","tweet_link":"612_police-call-for-peaceful-demonstrations-during-the-day","entry_text":"

Missouri Highway Patrol Capt. Ron Johnson urged the people of Ferguson to conduct peaceful protests, particularly during daylight hours. He also encouraged the media to cover those demonstrations.

\"Let's give attention to the peaceful... Let's not glamorize the acts of criminals,\" Johnson said.

","short_text":"

Missouri Highway Patrol Capt. Ron Johnson urged the people of Ferguson to conduct peaceful protests, particularly during daylight hours. He also encouraged the media to cover those demonstrations.

\"Let's give attention to the peaceful... Let's no...Read More"},{"id":"611","created":"08/19/2014 4:11 AM EDT","title":"31 Arrested In Ferguson","tweet_link":"611_31-arrested-in-ferguson","entry_text":"

Although 31 people were arrested during clashes on Monday night, many were not locals, Missouri Highway Patrol Capt. Ron Johnson said during a press conference early Tuesday. Some of the people detained by officers came from as far away as New York and California.

Johnson said good people have been protesting during daylight hours, and are encouraged to do so again in the morning; however, \"violent agitators\" were taking advantage of a volatile situation.

\"Protesters don't clash with police,\" Johnson said. \"They don't throw molotov cocktails. It is criminals that throw molotov cocktails and fire shots.\"

","short_text":"

Although 31 people were arrested during clashes on Monday night, many were not locals, Missouri Highway Patrol Capt. Ron Johnson said during a press conference early Tuesday. Some of the people detained by officers came from as far away as New York and...Read More"},{"id":"610","created":"08/19/2014 4:10 AM EDT","title":"2 Men Shot During Clashes","tweet_link":"610_2-men-shot-during-clashes","entry_text":"

During a press conference early Tuesday, Missouri Highway Patrol Capt. Ron Johnson said two men were shot during clashes on Monday night.

No update was available on their condition, but neither were shot by police.

","short_text":"

During a press conference early Tuesday, Missouri Highway Patrol Capt. Ron Johnson said two men were shot during clashes on Monday night.

No update was available on their condition, but neither were shot by police.
\n

"},{"id":"609","created":"08/19/2014 4:03 AM EDT","title":"Capt. Johnson To Journalists: ''We May Take Some Of You Into Custody'","tweet_link":"609_capt-johnson-to-journalists-we-may-take-some-of-you-into-custody","entry_text":"

Missouri Highway Patrol Capt. Ron Johnson laid out a start scenario for journalists covering the death of Michael Brown in Ferguson, Mo., and the subsequent protests. Speaking to reporters early on Tuesday morning, Johnson displayed two pistols and a molotov cocktail that he said officers had seized from protesters.

He used the contraband to bolster a case for why police were justified in their decision to detain journalists, especially those, he said, who did not appear to have the proper equipment. As he spoke, two reporters remained in police custody, Ryan Devereaux of The Intercept and another unidentified journalist who reportedly works for Bild, a German newspaper.

Johnson claimed that the two professionals \"were not journalists,\" and defended officers' actions. If police decide to question for any reason journalists in Ferguson, \"We may take some of you into custody.\"

","short_text":"

Missouri Highway Patrol Capt. Ron Johnson laid out a start scenario for journalists covering the death of Michael Brown in Ferguson, Mo., and the subsequent protests. Speaking to reporters early on Tuesday morning, Johnson displayed two pistols and a m...Read More"}]
Comments