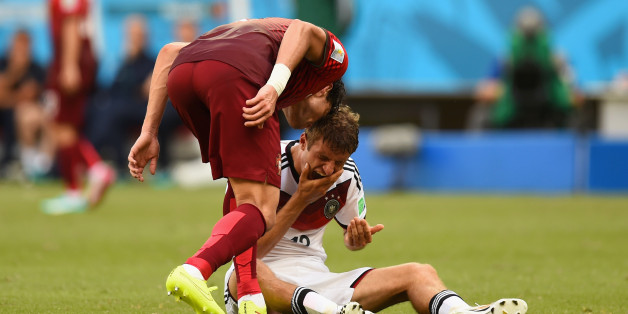 It didn't take long for Pepe to live up to -- and down to -- his combustible reputation at the 2014 World Cup. The Portugal defender was shown a red card and sent off in his first half of action in Brazil.
With Portugal trailing Germany 2-0 in the first half of a Group G clash in Arena Fonte Nova in Salvador on Monday, Pepe delivered a headbutt to Thomas Muller in the 37th minute. The clash of heads came after Muller appeared to make the most of taking a hand to the face as the two battled for the ball. After Muller went to ground, Pepe lost his mind and lowered his head.
(GIF via @mashable)
(GIF via @iLagaan)
With Pepe sent off, Portugal was forced to contend with Germany for the remainder of the match with just 10 men on the field. The red card was also good news for Portugal's next opponent in Group G, the United States. Pepe will be unavailable for the match after receiving the red card.
Twitter Reactions To Pepe's Red Card
Comments