There were more famous men in the world than Eugene Prandato, but few were greater. More than three decades ago he was my high school English teacher, but from that time on he became my most trusted and influential mentor. He introduced me to writing, reading great literature, music, critical thinking -- in short, everything about the life of the mind and what matters most in the world. It wouldn't be an exaggeration to say that he helped me forge the best parts of the man I am today.
Two weeks ago I received an e-mail from his daughter Bonnie, who lives in London. The subject heading was simply "Eugene," and knowing that he had been in a hospital near Albany for a while now, I somehow knew right away that she was writing to tell me that he had passed away. Reading the e-mail several times through on my iPhone as I stood in front of the entrance to the gym, in the bright sun of a warm spring day, I felt that I had reached a major milestone in my life. I cried knowing that one of the people who had mattered most to me in life was now gone.
Many books and movies have focused on the transformative role a great teacher can play in the life of a student, but it's hard to imagine another teacher influencing someone else more than E.P. had influenced me. I vividly remember the first day of my tenth grade English class in Pearl River High School -- about 40 minutes north west of New York City. He walked into the room and without saying a word he went to the blackboard and slowly wrote the names of a few dozen authors and, next to each of their names, the title of one of their most important books. I recognized (but hadn't read) some of them, such as Charles Dickens' A Tale of Two Cities and James Fennimore Cooper's Last of the Mohicans, while others, such as Antoine de Saint-Exupéry's Wind, Sand and Stars and Willa Cather's My Ántonia, were entirely new to me (but quickly became touchstones). As I discovered the greatness of one after another of these books, both in Mr. Prandato's class and throughout the years, they became inextricably linked to him in my mind.
His manner in the classroom was authoritative in every respect. He had a deep and resonant voice, and when he read long passages of Shakespeare aloud -- Merchant of Venice and Julius Caesar were the first we explored -- I remembered wondering why such a talented man hadn't become an actor or director. During my junior year he took me to my first opera. It was Wagner's "Flying Dutchman." We went with his wife, Amelia, with whom he had summered in Bayreuth throughout the 1970s when Gwyneth Jones -- one of his favorite sopranos -- and others were giving now legendary performances on stage.
I can't say that my first experience at the opera was a breakthrough for me at that time. This was before supertitles and I frankly didn't get what was happening. But years later, when I discovered how much I loved classical music and opera, it was clear that he had planted a seed in me that continues to grow today (there's a bit of poetry in the fact that my client Deborah Voigt's performance in this same opera beginning this Friday at the Metropolitan Opera will mark the first time I will see "Dutchman" since E.P. took me that first time to the Met).
High school was a difficult time for me. My parents were going through a nasty divorce (is there such a thing as an easy divorce?), and I was confused, hurt and angry about many things. E.P. noticed this and one day he asked me why I looked so tired. I told him that my parents had been up late arguing. From that point on I would frequently take five or ten minutes to visit him in his office during lunchtime. Sometimes we would talk about literature, and at other times he would simply put my troubles into perspective and remind me that what was happening at home right now would pass. I'm sure his wise counsel kept me from translating my confusion into abusive behavior towards others or myself.
I can't recall when exactly I got back in touch with E.P. after I graduated from college, but by a great stroke of luck he retired to a house just 40 minutes from my current weekend place in Columbia County. Over the years we exchanged many letters. His would be several pages long, hand-written in a rich, flowing style on yellow legal pad. I thought every one of them was a work of art. They contained brilliant observations about literature, music, the meaning of life, so many things -- and I felt privileged to receive them. On occasion I got in the car and drove to his home on the edge of deep woods in Rensselaer County, where we would spend hours at the dining room table -- sometimes with his wife, who died several years before him, sometimes with his daughter, who visited as often as she could from London. His demeanor remained as stern as ever, and he had a sense of humor that bit more than it tickled, but beneath it was a deep warmth and affection towards me and those he loved that I will always treasure.
Throughout the time I knew him, his passions remained his cats, music, literature and dance, and I could listen to him for hours as he continued to guide my tastes. Without his pushing I might never have had the tenacity to have made it through many works of Joseph Conrad and Thomas Mann - especially the latter's Joseph and His Brothers, a huge four-part tome that he adored and that took me years to connect with and ultimately fall profoundly in love with. As my career in music developed, it was clear that any of the success I had experienced was directly linked to what I had learned from him about writing and music. What a joy it was for me when he would tell me that he loved a particular opera singer, and I could respond, on occasion, by saying that I worked with or even represented that singer.
E.P. was one of the smartest and sensitive human beings I have ever known. One time he told me over the phone that he just finished reading Dickens over the summer. When I asked him, "Which book?" he replied, "All of them." You could play drop the needle with him on virtually any work by Wagner and he could quote (and sometimes sing) the aria or recitative from memory. At some moments hearing certain arias would cause him to well up with tears. I remember telling him one day that I thought he looked a little like Herbert von Karajan, and I think he enjoyed hearing that. His hair didn't swoop upwards like the legendary maestro's, but E.P.'s hair was just as fastidiously groomed, parted on the side at the same place and in the same straight line the entire time I knew him.
Over the years, our relationship moved from strictly teacher to student, to man and mentor and, ultimately, towards friends (though I never became comfortable, really, calling him Eugene). Eventually I learned more about his difficult youth, when going to the opera meant going without food, but I can't say that I really ever knew where he was from or what his family life had been like. It's as though he was there in the world as a thing in itself, a force of nature.
His daughter told me recently that he considered me the son he never had and that he was very proud of my achievements. I could die happy knowing that this might have been the case.
I remember him writing "Nur Ruhe will Ich!" (I only want quiet) beneath his signature on one of his many letters to me. He has that now, but his spirit lives on in me and certainly his beautiful daughter, and hopefully other people who were lucky enough to have seen some of life through the illuminating clarity of his mind.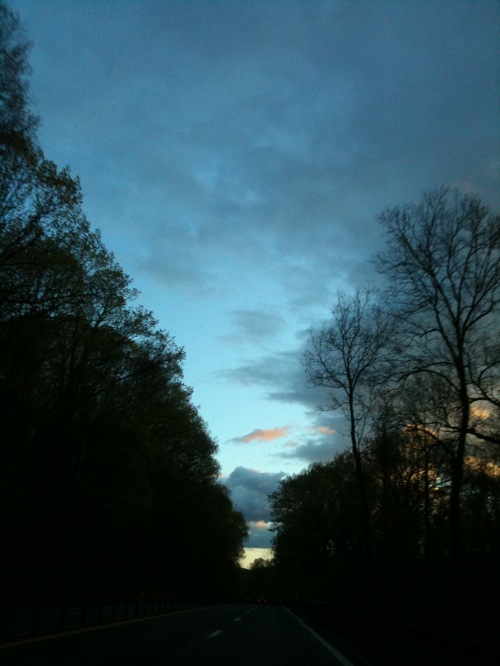 Twilight on the Taconic Parkway, the road I drove when I visited my beloved mentor.