"To me everything is supernatural." - British naturalist Robert Jeffries
The Southern Reach Trilogy chronicles more than thirty years of the attempt to understand Area X, a seemingly pristine wilderness in which strange things are happening. Area X is surrounded by an invisible border with only one point of egress. The Southern Reach, a secret government agency, has been sending in expeditions with varying degrees of failure for decades. Annihilation tells the story of the twelfth expedition into Area X, while the second volume, Authority, functions as an expedition into the Southern Reach itself. The concluding volume, Acceptance, out in September, weaves together perspectives from both Area X and the Southern Reach, under increasingly desperate circumstances.
The series might be a mix of science fiction and conspiracy/spy fiction, but the underlying concepts come out of an intense awareness of our natural landscapes and of our current predicament with regard to global warming. A lot of my "research" meant visiting, revisiting, or remembering landscapes that spoke to me in a way useful for the fiction: St. Marks Wildlife Refuge, Apalachicola, rural Florida and Georgia, Botanical Bay on Vancouver Island, the Pacific Rim of Vancouver Island, and the coast of northern California. I wanted for any details about the natural world in my series to be based on direct observation, rather than received second- or third-hand.
For the real research involved, I have been grateful for ideas encountered in a number of texts, most of them directly rooted in some aspect of the natural world. Here are the top 10, with an honorable mention to the remarkable coffee table book The Seasons of Apalachicola Bay by John B. Stohrer, Jr., which was like a revelation to me while writing Acceptance -- a heartfelt, gorgeous, and wise book that kept me grounded in the places that make the Southern Reach Trilogy personal.
Under the Sea-Wind by Rachel Carson
This was the famous naturalist's first book, and it contains her observations of several coastal environments in the 1930s. Taken just as an intricately detailed account, Under the Sea-Wind has a mesmerizing rhythm that places the reader under a spell. But not only does this book fascinate with its documenting of the lives of animals and the environment around them, it describes pre-World War II landscapes that today do not exist in quite this complexity. This chronicle is thus also an important account of our natural history.
The Sea Inside by Philip Hoare
Whether you're looking for ruminations on whales or what "counter-shading" means in the context of grebes, this series of essays on our relationship to our oceans is incredibly rewarding. Hoare is especially good in describing transitional places that cannot in any way be thought of as "pristine" but that nevertheless continue to shelter animal life. Throughout
The Sea Inside
, I was also struck by the perfect balance between the personal and the natural world. We cannot separate our lives from that world; we are intertwined with it, and its rhythms. Places have both a human and natural history that communicate one to the other.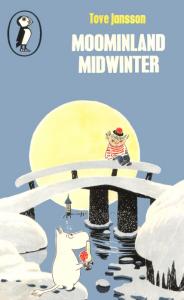 Moominland Midwinter by Tove Jansson
This famous Nordic writer might be known for her children's books, but in fact she was a powerful writer of fiction for adults as well (including highly recommended
The True Deceiver
and
The Summer Book
). In certain of her Moomin books, the line between what's meant for adults and what's meant for children becomes blurred, and
The Moomins in Midwinter
is one of those examples. The opening sequence, cloaked in silence and in mystery, is evocative to any reader, and an influence on the tone of parts of my own Acceptance. Her book is extraordinarily still and somewhat unsettling -- and Jansson always writes powerfully of nature, even when it is not her main focus; the natural world permeates her work because it is important to her life.