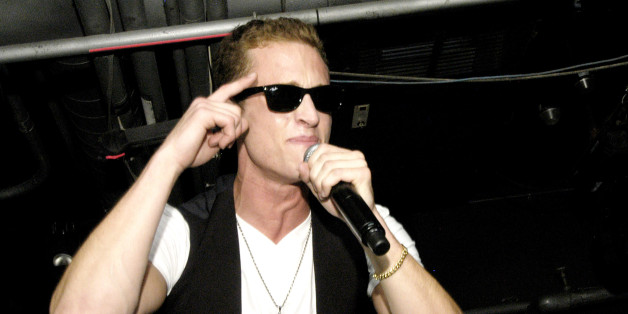 Chet Haze, a.k.a. Chester Hanks, the son of Tom Hanks, may seem like the kind of guy who lets criticism and hate roll off his back, but the time has come for Haze to put the "nerds" and "soft clowns" in their places.
Engaging in a fierce Twitter rant, Haze scoffed at those jealous of his soul and passion for rap, and expressed his annoyance with the trite "Forrest Gump" cracks. Read all of the tweets, and give a listen to his most recent song, "Finest Girl," below.
These nerdy twitter comedians hate it when another white guy comes along who actually has soul... It reminds them of what they're not
My whole life I been getting shit from jealous nerds like you simply because I love Rap. It's fucking hilarious
My passion has nothing to do with your petty existence, so don't fuckin get them twisted
Difference between me and these clowns is I actually will beat your ass if I see u in person whereas y'all are all #soft
Y'all just use the same jokes over and over again. Forrest Gump, Capt Phillips ha ha ha. Say something original at least.
I'm outta here doe. Just wanted to keep it real on these twitter nerds for once...
I guess cuz my Dads famous I need to talk a certain way, act a certain way, be a certain way... Instead of just being myself #fuckouttahere
MY GRACE IS SUFFICIENT FOR YOU, FOR MY POWER IS MADE PERFECT IN WEAKNESS.
Just to prove to these nerds that sitting behind a laptop doesn't entitle you to a mothafuckin opinion
Comments