For too many years, we've been afraid to talk about mental health. Too many of us suffer in silence, or fail to help people close to us, because we worry about what others will think. Chances are, those others are in the same boat: an astonishing 1 in 5 Americans deals with a significant mental health problem in any given year.
This silence is particularly harmful for young people. Most serious mental health issues emerge by age 14 -- the age when we're most worried about how we're viewed by our peers.
On December 5th, the silence will be broken as part of "Text, Talk, and Act," an innovative project that will use texting to support face-to-face conversations all over the country. Throughout the day, people will get together for one-hour small-group discussions on mental health. Each group will have polling questions, discussion questions, and process suggestions delivered to them by text message.
Results from the polling questions will be tabulated almost instantly, so that people will be able to see how participants across the country responded. The discussion questions will provide a safe space for candid discussion. By connecting people with resources and helping them find allies, the process will also help people figure out what actions they can take for themselves or others they know, and how to strengthen mental health on their campuses and in their communities.
"Text, Talk, and Act" is one of the Creating Community Solutions events of the National Dialogue on Mental Health, launched by President Obama in June. Over the last six months, people have taken part in large-scale dialogue and planning processes in cities like Sacramento, Albuquerque, Washington, Birmingham, and Kansas City. The Born This Way Foundation is excited to be a partner, and we hope you'll join us in this important conversation!
It is easy to take part: you just bring together 4-5 people, and make sure you have at least one cellphone in the group (smartphones allow you to see the graphics, but other cellphones will work too). On December 5th, text "START" to 89800. The process is designed to last one hour, but the technology allows people to start any time they like, and take as long as they like. You can also organize a "Text, Talk, and Act" event to take place after the 5th.
The process is a unique experiment in public engagement, using the platforms of United Americans and Textizen, and based on research by the Deliberative Democracy Consortium. Students at Rex Putnam High School in Milwaukee, Oregon, and Roger Williams University in Bristol, Rhode Island (pictured), helped test it out.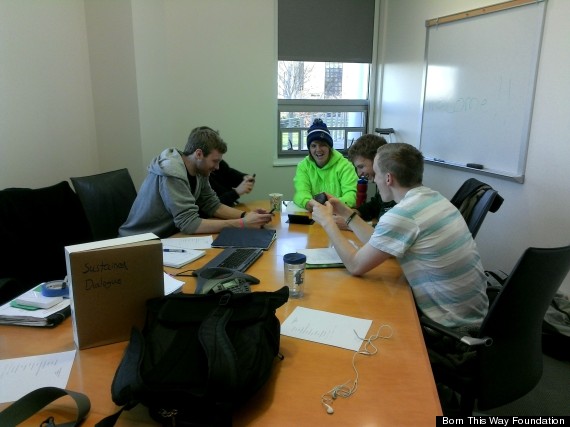 "Text, Talk, and Act on Mental Health" will create conversations that are personally meaningful, and lead to local action, while also giving people the sense of being part of a truly national discussion. Please help us break the silence on December 5th.