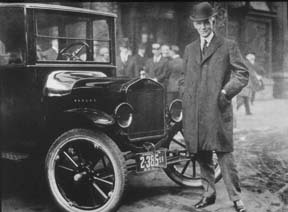 On New Year's Day of 1910, Henry Ford started producing Model T's at what was then the world's largest auto factory - the Highland Park Ford Plant. It was an airy complex that would change the world with his new ideas - the moving assembly line, and more than doubling his workers' pay to the unheard of sum of $5.00 a day.
The assembly line made mass production possible and the unexpected result of boosting his workers' paychecks meant they could buy his cars and everything else under the sun. Other company's had to compete for the same workers and his employee's twofold pay increase drove wages up around the country which stimulated demand.
This true "trickle down" phenomenon gave birth to the modern American Dream of home ownership, plentiful high paying jobs, decent schools and a pathway to citizenship for those willing to do a hard day's work. There are still lessons to be learned.
"Mass production and the $5.00 day gave the country an enormous boost; it simply made consumers out of almost everyone, in terms of automobiles. The automobile industry was so important to the economy that as it went, the economy seemed to go," said David Lewis, professor of Business History at the University of Michigan.

Today, the fabled factory is hidden behind a strip mall and like much of the city that surrounds it, it's a mostly abandoned hulk that occasionally attracts tourists and historians from around the world who come to pay homage to the site that gave birth to modern manufacturing and the rise of the American middle class.
If you didn't know what you were looking for you'd probably drive by the Model-T Plaza that abuts the crumbling, former administration building with broken windows on Woodward Avenue and not be able to imagine this forlorn site teeming with over 25,000 employees.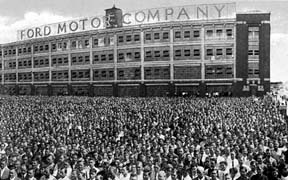 People dubbed the factory "The Crystal Palace" because of its vast amount of glass and bright interiors. The factory's enormous size made people think that Ford had gone mad.
"Frankly, this happened in Henry Ford's life again and again; he did things that people thought were harebrained, were stupid, were simply flat-out wrong, and most of the time Henry Ford proved to be right. It gave him reason to begin to doubt any of his critics and to believe in his own infallibility," said Charles Hyde, professor of History at Wayne State University.
To prove his critics wrong, he had to produce and sell an unthinkable number of cars. Within a few years he was turning out so many Model T's at the Highland Park Plant that it seemed like everyone was driving a Model T.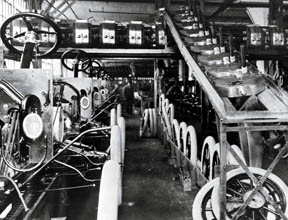 This was at a time when there was far more competition than there is today. There were over 290 different makes of cars being made in over 145 cities, in 45 states. Michigan had 45 different car companies -- 25 in Detroit alone.
But most American and European manufacturers were still targeting the rich. The average price of a car was between $1,500 and $3,000. That would be about $65,000 or $70,000 today. This was beyond the means of ordinary people.
"Henry Ford wanted to build a car that everyone could own. He made a famous statement early on. 'I will build a car for the great multitude of the finest materials available by the best workmen that can be hired of the simplest design that can be made so that every man with a decent income can take a ride in the countryside and enjoy God's great pleasures,' as he put it," said Lewis.
He redesigned the complete manufacturing process and made it as efficient as possible. No wasted motion. He installed thousands of single purpose machines, many he devised himself, to speed up assembly.
In essence, the factory became one giant machine. The machines and workers were arranged sequentially. The tools and parts were within easy reach.