Bridesmaid dresses come in very many shades of chiffon (and charmeuse and satin and taffeta ...) and present almost as many mysteries.
The main one? Why these dresses have to be ordered months and months in advance.
It turns out, it's because of all the options, explained Alan Dessy, president of the eponymously named dress company Dessy Group. Unlike dresses bought from the mall or other regular retail outlets, bridesmaid dresses aren't ready-to-wear. They are available in hundreds of styles and colors and sizes ranging from 0 to 30, so they aren't pre-made but are "cut-to-order" instead, Dessy said.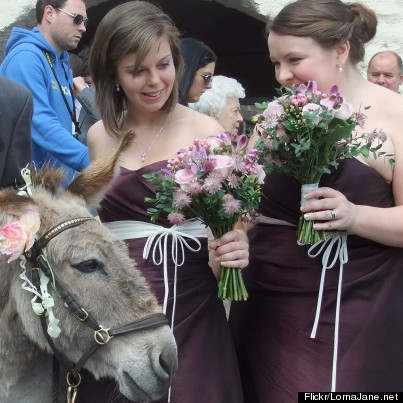 Another mystery is what's going on in this photo? We can't answer that question, though we have the sense this wedding was probably a lot of fun.
Flickr photo by LornaJane.net
, used under a Creative Commons license.
"An average bridal party might be somewhere between, say, three to seven bridesmaid dresses. We'll accumulate 50 or 100 orders like that, or sometimes more, and issue one cutting order to the factory for all of that merchandise," he said. "Then the lead time that it takes from there is cutting the goods, sewing the goods, getting the goods in transit back to the United States from Asia."
According to Dessy, bridesmaid dresses have a "lead time" of eight to 12 weeks, with a buffer built into the recommended ordering time of around four months.
The dresses are then shipped to the retailers, and from there are dispatched to the bridesmaids -- who can only hope they've given themselves enough time to get their alterations done, since, of course, bridesmaid dress sizing presents its own set of complications.
Some retailers like J. Crew and Ann Taylor are catering to the less patient among us, offering bridesmaid dresses that ship within a regular online-shopping time frame. And Dessy's now offers some dresses that can be bought online and shipped within days, too. The tradeoff is that these dresses are available in fewer colors, styles and sizes than you'd get if you ordered through a boutique months in advance.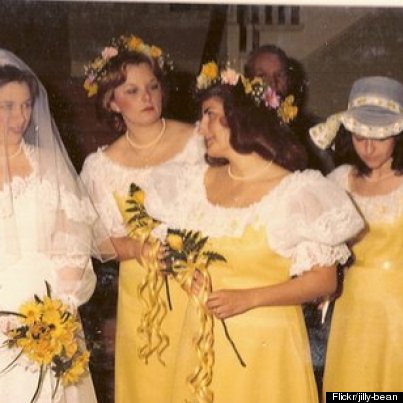 The question of where this tradition of matching dresses comes from is work for a wedding historian. Many wedding-related websites promote a story about Roman women dressing alike to stave off evil spirits. However, neither of the actual wedding historians that HuffPost asked -- Hartwick College's Vicki Howard and Evergreen State College's Stephanie Coontz -- has yet discovered the actual reason for this tradition in the course of their thorough (and thoroughly fascinating) studies of Big Day traditions.
One last note on bridesmaid dresses, while you're here.
Another recurring issue in the bridesmaid dress department is brides insisting that their bridesmaids will be able to wear their dresses again. There's even a book of bridesmaid photos called "You Can Wear It Again, A Celebration Of Bridesmaid Dresses," dedicated to the "selfless women everywhere who help the bride's dreams come true" -- and likely don't ever don the dresses again.
Dessy agrees. "I think it depends on the style and color," he said. "I think the reality though is that most often the dresses are retired after [the] first use."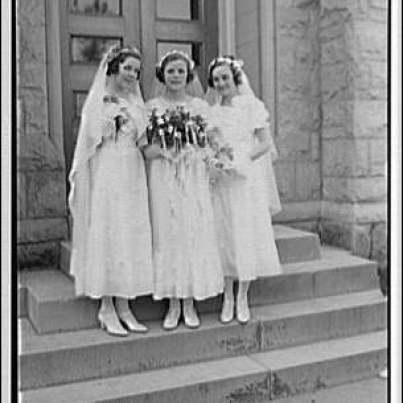 A D.C. wedding party from the Library of Congress' Theodor Horydczak Collection. The photo, according to LOC records, was taken sometime between 1920 and 1950.