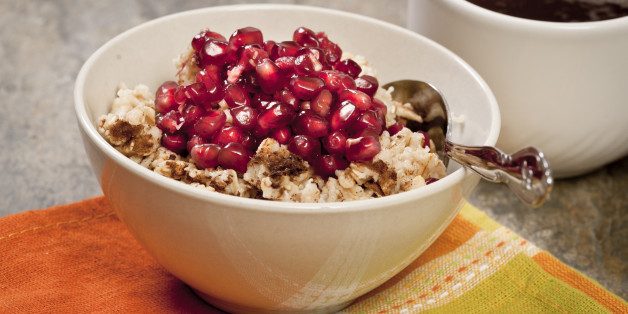 Ingredients:
1 tablespoon olive oil
1 cup finely chopped yellow onion
1⁄2 cup finely chopped carrot
1⁄4 cup finely chopped celery
1 tablespoon chopped garlic
1⁄4 cup white wine
1 cup steel cut oats
2 1/2 - 3 cups fat-free chicken or vegetable broth
2 teaspoons chopped fresh thyme (or 1 teaspoon dried)
4 cups baby spinach leaves or torn leafy greens, such as Swiss chard (or arugula)
2 tablespoons freshly grated Romano cheese (optional)
Salt and ground black pepper

Instructions:
Heat the oil in a shallow 3-quart saucepan over medium-high heat. Add the onion, carrot, celery, and garlic. Cook, stirring occasionally, for 5 minutes, or until the vegetables are soft. Pour in the wine and cook, stirring constantly, until the liquid is completely absorbed. Add the oats and stir well.

Carefully pour in 2 cups of the broth and bring to a boil. Reduce the heat to medium-low and simmer until the liquid is absorbed, stirring frequently. This will take about 10 minutes. Add the thyme and the remaining 1⁄2 cup broth. Turn up heat until the broth comes to a boil, then reduce the heat to low. Sim¬mer for 10 minutes, stirring occasionally, until most of the liquid is absorbed. Stir in the greens.

Remove from the heat and let sit for a minute or two until the greens wilt. For a brothier risotto, add extra 1/2 broth or hot water. Add the cheese, if desired. Season with salt and pepper to taste. Serve immediately.
Comments