Egyptian military and police have been forcibly clearing people from camps set up to protest the coup that ousted the country's former president, Mohammed Morsi. Dozens of people have apparently been killed. One reporter from Al Jazeera said he counted 94 bodies at a field hospital near one of the camps.
XPress, a newspaper from the United Arab Emirates, tweeted that one of its journalists, Habiba Ahmed Abd Elaziz, had been shot dead: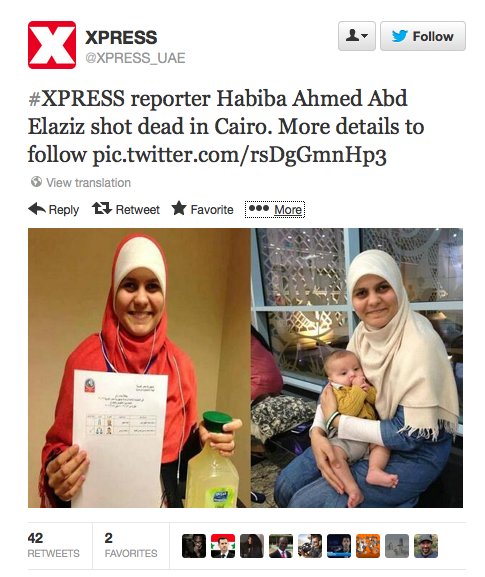 A piece on Gulf News, a sister publication of XPress, said that Elaziz was "not on any official assignment and had gone to her home country on annual leave."
Sky News also reported that one of its cameramen, Mick Deane, had died:
British prime minister David Cameron tweeted a message of condolence:
I am saddened to hear of the death of cameraman Mick Deane, covering Egyptian violence. My thoughts are with his family and @SkyNews team.
There were other reports of violence against journalists.
Mike Giglio, a reporter for the Daily Beast, tweeted that he had been detained and beaten by security forces:
I'm fine and thanks to all for the concern. Was arrested, beaten by security forces at Rabaa and then held at a local arena. Just out now.
Haleem Elsharani, a freelance photojournalist, said that a Reuters photographer had been shot in the leg:
Reuters photojournalist Asmaa Waguih is being moved to the international medical center after she was shot in the leg
@acarvin YES i talked to Reuters Mohammed Abdelghany and he confirmed
This story has been updated to reflect that more journalists have been killed.