The star formation is located 11,000 light years from Earth in a stellar womb that is estimated to encompass 500 times the mass of the sun. In a photo of the formation, provided by the European Southern Observatory, the Milky Way's monster star appears as a yellow blob in the center of the "womb."
(Story continues below)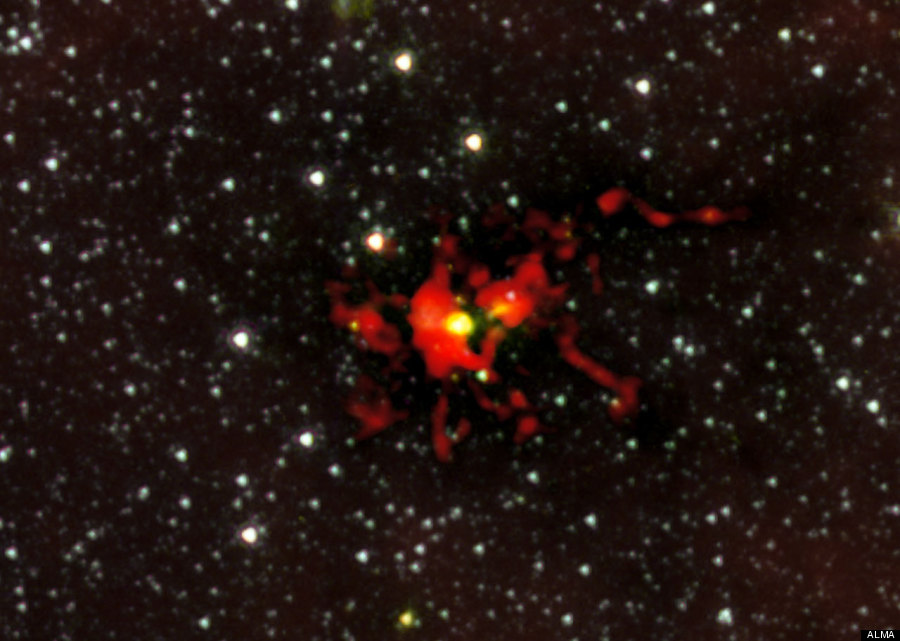 ALMA (ESO/NRAJ/NRAO)/NASA/Spitzer/JPL-Caltech/GLIMPSE
Why are such stars not often seen during their formation? The galaxy's most massive stars form within dark clouds that obscure them from view, ALMA notes in a statement.
While the Milky Way is one of the more healthy, star-forming galaxies in the universe, the overall rate of star formation has dropped to a mere 3 percent of its peak amount some 11 billion years ago, an astronomical survey revealed in November.


ALMA (ESO/NAOJ/NRAO)/NASA/JPL-Caltech/GLIMPSE
Loading player...
ESO/Nick Risinger (skysurvey.org), DSS, ALMA(ESO/NAOJ/NRAO), NASA/JPL-Caltech/GLIMPSE. Music: movetwo
193 Comments