Richard Hazen began building the structure in April 2011 after he says city officials told him no permit or paperwork was required. Watch the video above.
The partially enclosed wraparound style deck has Hurricane-impact glass and pressurized wood.
(Story continues after photo.)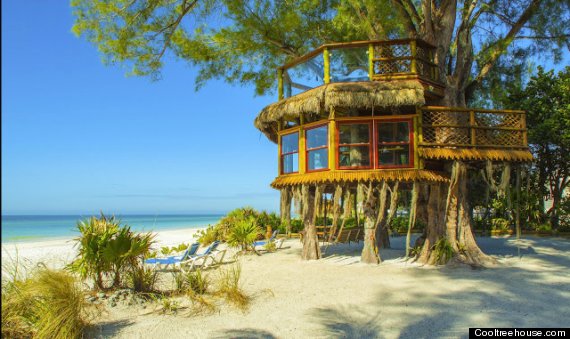 It took six months and $20,000 to build the private oasis, which wife Lynn Tran calls a "place to be one with nature" in the above interview with the Today Show.
A few weeks ago however the City of Holmes Beach contacted the couple, who own and run Angelinos Sea Lodge resort, and said the treehouse was a safety hazard to the public.
The City has since threatened steep daily fines and ultimately demolition of the treehouse.
Meanwhile the city has claimed that the treehouse construction destroyed nearby sea turtle habitat, a claim local Turtle Watch director Suzi Fox says is just not true.
UPDATE: Lynn Tran issued the below clarification to HuffPost Miami:
The previous building official approved as no permit. The new official said it needs a permit, reversed the previous official determination and want us to comply to all code rules. State law said it's exempt from permit requirements. Most people think the issue is whether we got the approval in writing. That is not the issue here.
Comments