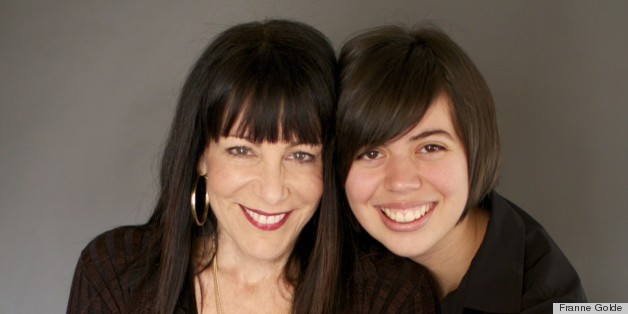 It was a primal scream that went right through me and sent distress signals to my heart. My beautiful 4-year-old daughter stood up in the bathtub as though she were possessed. "Mommy, I'm supposed to be a boy. God made a mistake!" she screamed through heaving tears. Somehow I stayed calm, put my arms around her and tried to calm her down.
We talked and talked over the next several years, and I spent hours on the Internet looking for children's books, social groups, summer camps, films, anything that might help Syd feel less alone and isolated. There just wasn't anything for children who questioned their gender or felt different, unless they were older.
School was torture. I dropped her off, and then I pretended to drive off but instead parked across the street and watched as she tried to navigate the schoolyard, a daunting task for even the bravest. I was heartbroken. A million memories of her nine years on the planet went through my head.
She was adopted at birth and was diagnosed as being on the autistic spectrum. Then there were the many psycho-educational tests, therapies and her ongoing gender questions. We tried switching schools for middle school, but by the time sixth grade was coming to an end, things still didn't feel right for Syd. She was gifted, had some learning challenges and was desperate to be a real boy.
Mom and I were watching TV and saw two little girls who were born boys, and I responded, "Mom, that's me, only opposite! My brain and my heart feel like a boy."
Like any good mother I tracked down the doctor who was on the show, and to my surprise she was right here in L.A., at Children's Hospital. We went to several appointments, and Syd went through several years of psychotherapy with a gender specialist.
It was quite by accident that we next landed at Bridges Academy, a school for twice-gifted children. It was there that Syd began to blossom and I first heard about the LifeWorks Mentoring program. I called them immediately and was told that it was for kids between the ages of 14 and 24. My heart sank as I told them, "Syd is 12. But please, just meet her. See if you think she'd fit in."
We went the following day and met founder Michael Ferrera, Dan Dumont and Dinorah Garcia. They all agreed that Syd would be a great addition to LifeWorks and were willing to give it a try.
I finally had a place to land, a place to get my questions answered, make deep friendships with kids like me and have a home away from home with people who accepted and understood me.
Within a couple of months LifeWorks moved to the L.A. Gay and Lesbian Center at McCadden Place, and soon thereafter, they introduced me to a hand-picked mentor, Moore Rhys, an exceptional woman who provided me with a year of Sundays and more. She shared her life and her wisdom and gave me information, guidance, respect and love, and we've cultivated a lifelong friendship as a result.
Beyond the LifeWorks program, the center has provided me with many friendships and all kinds of classes, and it has brought me into the community. I couldn't be more thankful to Lorri Jean, Bill McDermott and the coordinators of "An Evening With Women" for all the opportunities they've given me. I spread the word to anyone and everyone who needs a place like I did.
I am hoping to be accepted into CalArts next year to pursue my life-long dream of making LGBT animated films for a starving generation of kids like me. LifeWorks has been so supportive and pro-active in helping me achieve my dream.
I always tell Syd that what's most important is that she is a loving, compassionate, kind, understanding and honest person. She is smart, creative, intuitive and mature way beyond her years, but she's also a man living in a woman's body and likes it. This could change in six weeks, six months, six years or never, but whatever Syd chooses, we all have her back.
Fast-forward a bit, and Syd's doctors have concluded that she is not autistic. Artistic? Yes! Eccentric? Yes! Emotionally delayed? No! Socially delayed? Well, for a girl, a little bit, but for a boy, it's pretty typical 17-year-old behavior.
The bottom line is that it doesn't matter what you call me: eccentric, artistic, tomboy, gay, transgender, genderqueer, delayed, out-of-sync. I may be all or none of those things. I love myself just the way I am. What I know for sure is that I am a human being who needs love and acceptance, like we all do. It is my birthright, and I get it from my entire family, my LifeWorks family and the L.A. Gay and Lesbian Center. Look out, world, here I come!