I've never thought of myself much of as an artist or a creative type. I am a fan of creativity. I stand by a theology that believes: if we are made in the image of our Creator, we are inherently creative ourselves. But even with that said, I've never seen myself as much of a creative type. Although I may be measuring myself by a skewed benchmark for being creative, since most of my family and my closest circle of friends are accomplished artists.
Creativity is somewhere in my blood. On my father's side, I'm third cousins with the late Johnny Cash. In their last days here on earth, my Pop and Johnny looked so much a like they could have been mistaken for brothers.
I have always found myself surrounded by creative people and communities. Three of my closest friends are internationally award-winning musicians/singer songwriter types that make you want throw-up in your mouth with jealousy every time you see them, because of the creativity that seeps out of them. Even their flatulence creates imaginative beauty. Fortunately for the rest of us, their shit still stinks. My beloved wife, whom I love more than anything else in this world, has so much creativity pouring out of her that even her hair (she has a lot of it by the way) has its own following on Twitter. (I wish I was making that up, but I am not.) She was also a part of the original production of this little musical called "The Lion King." Hell, even my nephew is a creative genius; he's already a published playwright at the age of 17.
But like I said, I am fan of creativity. Some may even say I am a creative-type myself. And more than anything, I am honored to be surrounded by creative souls. One of the creative beings that I am blessed to call a friend is Shae Cottar of Creative Existence. An inspiration to us all, this three-part interview maps out Shae's intriguing journey -- from being a Southern Baptist Minister, to a charismatic worship leader, to a church planter, to an esoteric spiritual director, and to the launch of his business venture Creative Existence.
Creative Existence is the brainchild of Shae and his business partner/co-conspirator, Denise Hinson, who was recently featured on a TED Talk, "Helping Others Ignite Their Creativity." According to Shae and Denise, Creative Existence's mission is this: "To inspire and create. To empower and engage. Creative Existence is involved in a full-blown conspiracy. We are fomenting a conspiracy to equip people to be who they were intended to be. We inspire people to create. We empower people to engage their full potential."
Creative people surround me (which I am profoundly thankful for) and this is a story to be shared, of creativity from someone in my inner circle: Shae Cottar and his Journey InTo A Creative Existence.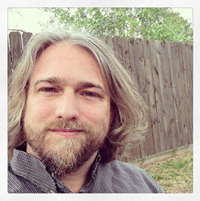 Ways To Connect With Shae Cottar
website: theshaeman.com
Facebook - Facebook.com/theshaeman
Twitter - @theshaeman

Ways To Connect With Creative Existence