While tests of non-residential sites in the Clyde area continue, some families with sick children are ordering private tests. Joel Hebdon, a specialist in hazardous waste who previously worked under the direction of the EPA, has been hired to analyze dust particles in the attics of the families' homes.
Alan Mortensen, a lawyer for the families, told The Huffington Post in a phone interview that nine area homes will split the cost of Hebdon's tests. All nine families have children who have been diagnosed with or died from cancer in recent years.
"The one thing that everyone has shared is the same air," Mortensen said, referring to the high number of cancer cases in the small town. "If [the results are] reassuring, that's one thing they can check off the list."
There have been no definitive answers as to what is causing such a high number of cancer cases among the area's children in the past 17 years.
Hebdon told HuffPost he started collecting dust samples in Clyde on Monday, and that he plans to send those samples to a lab by Thursday. He said he expects to hear results within two weeks.
People with tips or information relating to the investigation in Clyde should call the EPA's hotline at (312) 886 4359.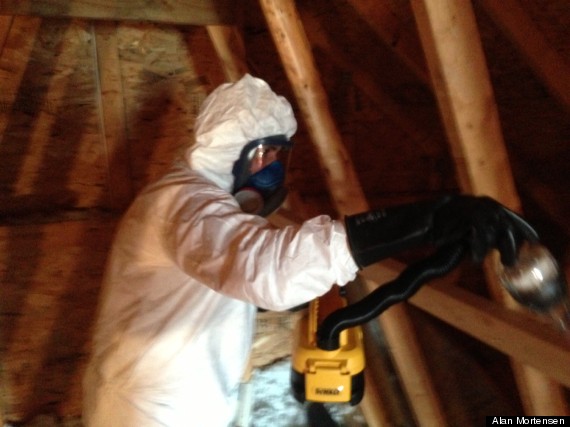 Environmental engineer Joel Hebdon taking dust samples from the attic of Warren Brown on Monday. Brown, who lives in Clyde, lost his 11-year-old daughter to cancer in 2009. (photo credit: Michael Wise) Donna Hisey and her son, Tanner, who was diagnosed with acute lymphoblastic leukemia two years after his sister Tyler contracted acute myeloid leukemia. Tanner's cancer went into remission in Dec. 2011. (photo credit: AP)
295 Comments