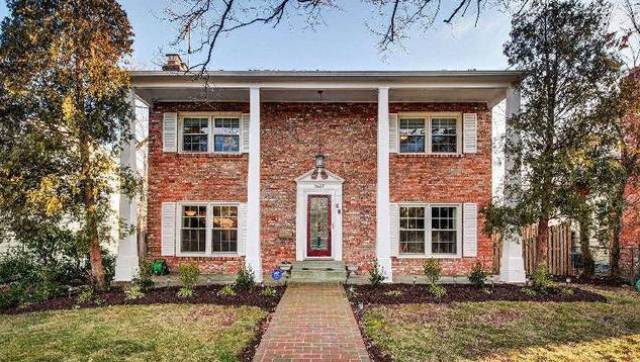 Have you ever wanted to live in a piece of (perhaps somewhat motley) D.C. history?
This house was witness to the rise and fall of one of D.C.'s most recognizable politicians.
Located at 3607 Suitland Road SE in D.C.'s Hillcrest neighborhood near the Maryland border, the home is listed for $469,000 after the asking price dropped by $20,000 over the weekend.
That's still far more than the $125,000 that Barry and Effi paid for the home in 1979, and even that comes with intrigue.
Marion Barry's Home For Sale
Barry experienced the highest peaks and deepest valleys of his political and personal life while living in the 3,000-square-foot, four-bed, four-bath home. It was an early source of controversy for Barry as mayor, when it was disclosed that he had received a discounted mortgage from a bank on whose board of directors his wife sat.

He gave up the discount and went on to spend 14 years in the home, raising his son Christopher there.

Effi Barry never allowed reporters inside the family home, but she described the home to The Washington Post in 1979: "It has, she said, four bedrooms, a large living room with a fireplace, an ample dining room, a large kitchen (which she said seats 15), a lower-level family room with a fireplace, two full baths, a patio and offstreet parking for two cars — their Volvo and Seville — in the rear."
Barry and his wife separated shortly after his 1990 arrest; Effi and Christopher also moved out of the house in 1990. Barry moved out after his incarceration ended, in 1992. He later moved into the apartment where he still lives. The house was then sold in 1993, the last time it was on the market until now.
The 3,000 square foot, 4 bedroom, 4 bath home built in 1971 was listed on the website Estately.com two weeks ago.
On the site, an enthusiastic real estate agent pitches the house, sounding a lot like Effi (if mistakenly writing Hillcrest as two separate words):
This Hill Crest stunner has it all! Boasting over 3000 finished sq feet. 4 bedrooms, 2 full/2 half baths, updated kitchen with granite & stainless steel appliances, updated bathrooms, 2 fireplaces, finished basement with rec space, gym and tons of storage. A large fenced in yard with basketball court and off street parking. Minutes to Capitol Hill and Metro. Don't miss out!!!
Barry shares a similar enthusiasm. According to the Washington Post, when asked if he believed the house was good he, Barry replied, "I wouldn't have bought it unless it was a good house. … You think I'm crazy?"
You could play on that very same hoop. But here's hoping you don't end up in prison for cocaine possession.
Comments