Once again, the cell phone market is buzzing: According to Wired magazine, the new, glossy 32GB Apple iPhone, expected to have double the internal flash memory, will almost certainly hit the pockets of hipsters around the world sometime in early summer.
Since a few solid years of being scornful of everybody who jumped on the iPhone bandwagon are already under my belt and there are officially satisfyingly large chunks of plastic falling off my three-year-old Nokia, which has no Blade Runner perks like email or web browsing, I was rather keen to discover that the iPhone can actually make your life greener.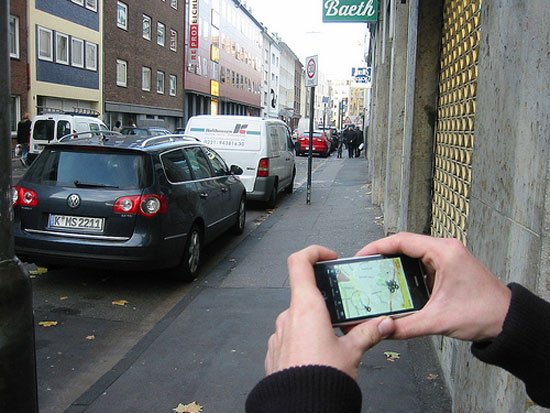 Photo via Flickr
Green iPhone Applications
First, there are the iPhone applications tackling nearly every arena, as we cover in 20 Ways Your iPhone Can Save You Gas, Energy, Time and Money. 3rdWhale, for example, offers a free app for green shopping, that points out the best place to pick up the green goods in your neighborhood--so when you want to drop the cash on some classy organic cotton tees, a quick search is all you need.
A Real Tree fights deforestation, and actually plants a tree when you buy it, and Home Managables can keep track of your energy consumption, cutting your household costs and lowering your carbon footprint.
The Power of Cell Phone Web Browsing
But perhaps the most significant green power coming from an iPhone is what is a given in most phones now: the search feature. When you have the power to search at your fingertips at any given second, you have both the power to annoy everyone around you with your inability to put the iCrack away and the tool to tackle living lightly with real dedication. Eco-consciousness is often about making knowledgeable decisions--but as humans, we often make decisions on the go--which is where portable web browsing comes in.
Take transportation: In an unfamiliar city, when it may seem intimidating to take public transportation or hop on a bike, you have maps and route-planners on hand, eliminating the need for cars or taxis.
Either way, with the exorbitant cell phone waste filling up our landfills (the average U.S. cell phone lifespan is 18 months--meaning 130 million are chucked each year), see if you can make your cell phone last long enough to have pieces falling off too. Decrepitness can be a real conversation starter. Then recycle it. What's not green? Tossing last year's iPhone to replace it with the new model.