Bebe described its new spring lookbook as a move toward chic, which piqued my interest, considering the mall favorite usually sits somewhere firmly in the middle of trendy and trashy.
Metallics, safari, ruffles--popular runway-inspired themes--are all there. Yet, nearly everything has been sexified. Like women's Halloween costumes, no Bebe shopper wants to be a cat, she wants to be a sexy cat. And for the store, it's not a safari shirt, but a sexy safari shirt.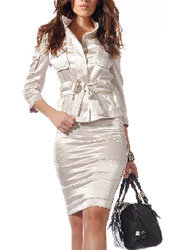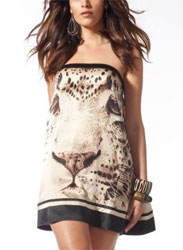 The Panther Silk Strapless Dress ($129) is as literally jungle-inspired as they come. This handkerchief on steroids doesn't leave a lot of room for error (aka bending over), and if you're pushing 35, let's hope no one confuses the panther for a cougar.
Check out our Mall Stores feature, where we did happen to find some good stuff from Bebe's past seasons, although it wasn't an easy feat.