Not even the hip-hop trio Salt-N-Pepa could have predicted that their most ubiquitous nugget of pop culture advice ("Let's talk about sex, baby") would be used as a conservative strategy to derail President Barack Obama's $800 billion economic aid plan.
But as the Senate begins debate this week on the plan, one apparently titillating item in the package -- $400 million in funding for STD screening and prevention -- has had conservatives talking about sex with Dr. Ruth frequency in an attempt to frame the funding as "wasteful" and morally objectionable.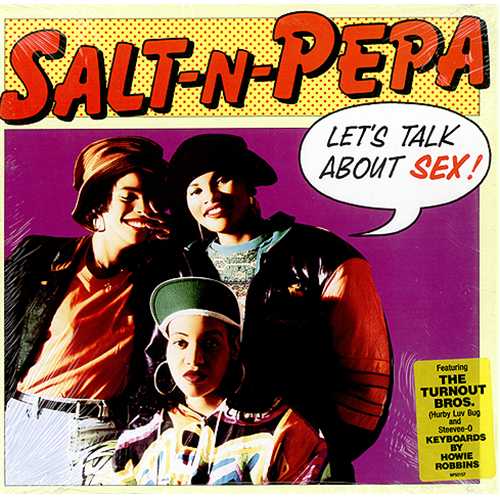 The sex talk started with the House version of the Senate bill which includes $335 million for STD, tuberculosis and viral hepatitis prevention programs at the Centers for Disease Control and Prevention (CDC). That item provoked a story on the right-wing Web site The Drudge Report which, in breathless overtones, quoted an unnamed House Republican staffer saying that the Democrats support prevention funding for "sexually transmitted diseases" in the economic aid plan.
Gasp. Clutch the pearls, what a sneaky thing to do!
A media frenzy ensued. Health care advocates spent days writing urgent letters to Senate committees to explain the economic benefits of preventing disease.
The CDC has used this STD funding in the past for programs aimed at reducing sexual transmission of HIV among gay/bisexual men, where the needs are the greatest. But some members of Congress found such programs objectionable and arguably unrelated to economic stimulus, according to the Jan. 28 Drudge Report.
"Whether this funding has merit is not the question; the point is it has no business in an economic plan supposedly focused on job creation," said a House Republican described by the website as "a stimulated Hill source."
And that's what opponents just don't get: disease prevention is a job.
Critics fail to mention that the bulk of the CDC funding will go to jobs and workers that prevent HIV, hepatitis C, and TB -- some of the most common, costly, and controllable infectious diseases.
Federal health data show that there's plenty of prevention work for Americans to do.
Every year in this country, there are 13,000 cases of TB, about 97,000 cases of hepatitis A, B, and C and more than 56,000 new HIV/AIDS infections, with persistent increases in infection rates among gay men and other men who have sex with men, many of whom are black and/or Latino. And to top it off, one in four teen girls has at least one STD.
Here in Illinois, Cook County has the highest number of gonorrhea cases and the second-highest number of chlamydia cases of any county in the United States. And some downstate communities have STD infection rates that are equal to or greater than those in Chicago.
The truth is that the majority of stimulus funding would be used to support state and local health departments and communities. Health departments across the nation are experiencing budget shortfalls and are being forced to reduce staff and provide fewer public health services.
The Center for Budget Policy and Priorities has said that 46 states are currently facing budget shortfalls and that 26 states have made or are proposing cuts to their public health programs.
In the past three years, more than 1,000 TB program staff across the country have been furloughed, laid off, or lost. California has reduced the work week of state health staff by 10 percent due to the declining state budget. Due to state budget cuts in 2008, funding for all seven STD clinics in Massachusetts has been eliminated.
Even the CDC could use a bit of stimulus. Adjusted for inflation, the agency's HIV prevention budget has decreased by 19.3 percent since fiscal year 2002; its STD budget has declined 15 percent since 2002, according to AIDS Action Council, a Washington-based policy and advocacy group.
Most of the proposed funds would be used to retain and hire thousands of workers in a broad range of fields, including: nurses and nurse aides; community outreach workers; medical assistants; phlebotomists and prevention counselors; laboratory technicians; IT specialists, including software developers, technicians and engineers and clerical staff.
These jobs have the potential to be performed in every community across this nation. The money could even fund the purchase of American-made HIV test kits. How patriotic.
Is it any wonder that most Republican governors have broken with their GOP colleagues in Congress and are now pushing for passage of President Obama's economic aid plan?
Perhaps the governors finally realize what health care advocates have said all along: improving the healthcare infrastructure of our country is a job. In fact, the access to health care created by this potential public health army could reduce absenteeism and raise productivity at other jobs throughout the nation.
Simply put, Congress should approve the $400 million in prevention funding so that we can stop talking about sex and start improving the health of all Americans -- not just the ones we morally agree with.