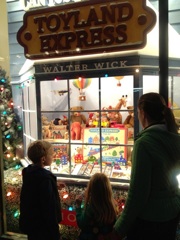 Decorated store windows rank right up there with the tree in Rockefeller Center as must-dos during this holiday season. So after viewing Barneys, Saks and Lord & Taylor in midtown be sure to head downtown to SoHo to catch the window at the Scholastic Store where beginning on November 13th "The Toyland Express" will make a seven-week stop at 557 Broadway (Between Prince & Spring Streets).
Inspired by Walter Wick's newest book, Can You See What I See? Toyland Express, the store window takes families back to their favorite childhood holiday memory, as they look inside a 3-D toy shop from the 1950s with original toys and props from Walter Wick's studio, including miniature figurines, vintage teddy bears, dolls, and the beloved Toyland Express toy train.
The search-and-find picture book begins in a toy maker's workshop where the train is first created, then follows its toy-filled journey through many playful changes, into the attic and out again, to be rediscovered and reinvented by another child many years later.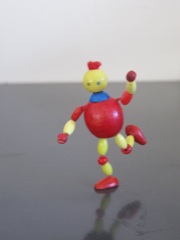 The store is hosting a Toyland Express Weekend on Saturday & Sunday, November 19th & 20th. Visitors will be taken on a magical adventure where pages come to life as your solve train themed riddles to unlock special discounts. Autographed copies of the book will be available and children will also have the opportunity to build their own Seymour, the reoccurring character in the Can You See What I See series.
The Scholastic Store's window has been home to some of the most visited children's book displays including, Harry Potter, Star Wars, last year's It's Christmas, David and more recently, Wonderstruck, celebrating the release of the New York Times #1 bestselling book by Brian Selznick.