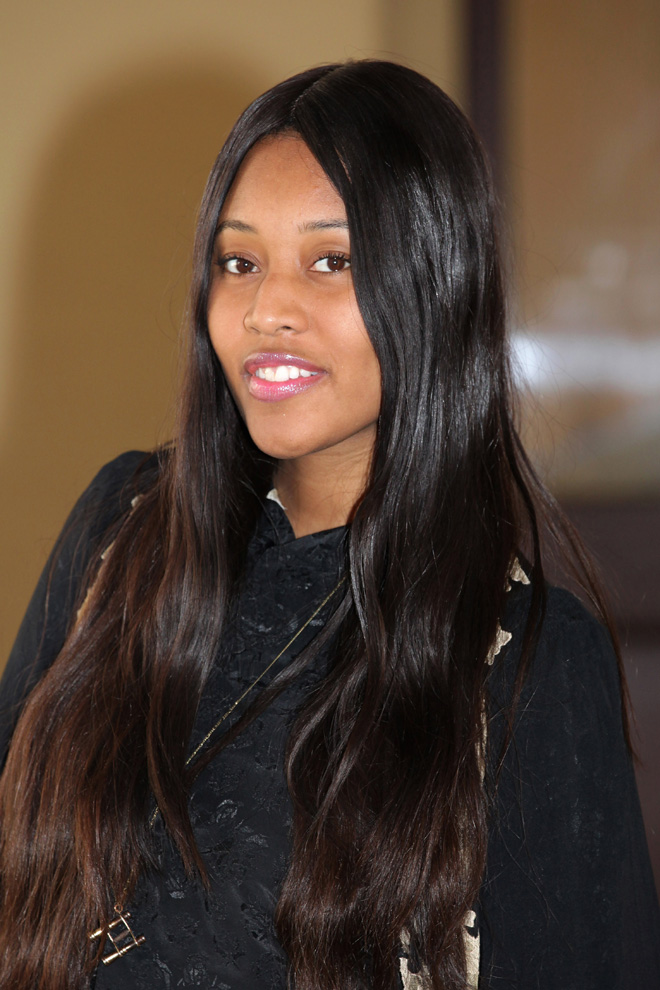 British soul songstress V V Brown has graced the pages of Vogue and sported an eclectic array of outfits in her high-energy videos. But when she visited AOL's offices Tuesday, she appeared understated in a blue Topshop blazer, black dress from Swedish label Cos and American Apparel tights. "I feel like I'm going to a lawyer's office," she joked. Before treating staffers to a live performance of "Children," from her upcoming album "Lollipops & Politics," Brown took a few moments to talk fashion with us.
With musicians playing muse for designers and brands, is there any label you'd particularly like to work with?
I'm really excited about my online vintage store, VVvintage.com. We work with young designers who come straight out of art schools like Central St. Martins and London School of Fashion. We're collaborating with them, recycling clothes, turning them into these amazing couture pieces and selling them on the site. So, this project has allowed me to work with really new, talented designers and some of them are just unbelievable. They're just as good as designs at the runway shows.
What's your beauty secret?
Keep your skin healthy. I don't usually wear a lot of makeup when I'm at home. If you keep your skin healthy, then you can just put lip gloss on and roll out of the house. I use this cleanser called Celex-C. And, if I have to put a little makeup on, I use Bobbi Brown. I love the dewy look, where it looks healthy and there's moisture in the skin.
What music do you listen to while you're getting ready for a show?
I'm obsessed with Little Dragon. I like Oh Land. I love hip-hop music. I always listen to the '90s stuff, like Dead Prez. I always listen to hip-hop, because I know all the words. And Lana Del Ray. I do really like her. I know there's been a lot of for-and-against with her, but I personally love the music.
What other musical acts do you think have great style?
Rihanna is very stylish. She looks like she really understands street culture and she makes it glamorous at the same time. I think she's got quite a London vibe to the way she dresses. Bjork is like the queen -- everything she wears is just forward. Mark Ronson's pretty elegant, and looks really dashing in suits. He's very simple with what he wears, but he's quite handsome, isn't he?
We concur. Who's your all-time style icon?
Tina Turner--the old Tina, when it was Ike and Tina. I love those old records. Grace Jones, because I like that fact that when she did a show the whole thing was art--the clothes, the lighting, the whole set design was taken into consideration. I'd really love to get to that level where people come to our shows and everything is talked about; its not just about music.
What's your must-have when you're on the road?
A nice black dress, because you never know where you're going to end up going for dinner. I meet a lot of people on the road for work, so an edgy black dress works well with a nice pair of shoes. We tend to have a wardrobe for stage with 10-15 outfits.
What's the most stylish city to tour in?
London. I like Denmark and Sweden, as well. I think, for me, they really understand fashion and style, and are the ones doing the forward thing. And then, everyone else follows them.
What was your first designer purchase?
I've always gotten vintage clothing, but it was a brown Louis Vuitton bag. I think when I got my first record deal, I just went out and got one.
Have any fashion regrets?
There's loads. We did this show in London, this ABBA celebration, and I had this sequins hood thing. I looked like a snake or something. It was just this head popping through the fabric. It was the worst thing ever.
How can every woman look like a rock star?
I think being a rock star is just being yourself. Whatever you are, just be what you are. And, be comfortable.
How would you sum up your aesthetic?
I've grown up and changed a lot. Minimalism, simplicity, comfortable, strong lines and graphic. I used to be colorful and retro and fun, but now it's all about blacks and grays and whites.