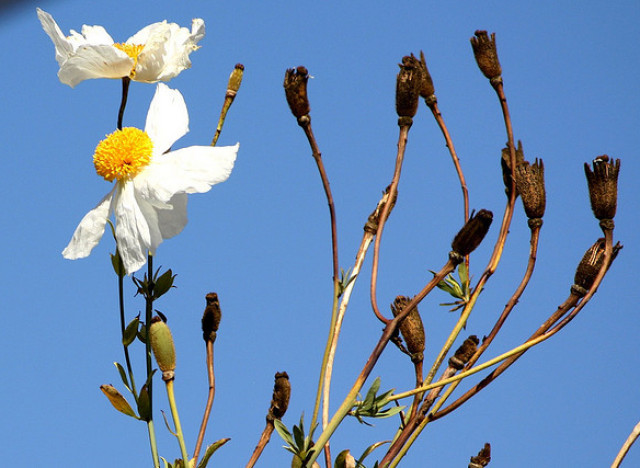 Flickr photo by prayerfriends
Q: I want to plant some perennials to fill up some empty spaces in my garden, and it appears that it is perfect timing because I see that everything is on sale!! They do however look dead. Are they still alive or am I buying duds?

A: Most garden centers are preparing for winter and having great sales in order to give their remaining plants good homes before it gets too cold out to plant. The perennials you are looking at might look a little suspect but they are still alive and have that appearance because they are starting to go into their dormancy period.
Q: Dormancy period? Say what?
A: Like a biological clock, plants will slow down their activity and sleep for the winter. It is a survival strategy which allows them to make it through the cold season. Plants don't look pretty all year round, and the yellow/browning leaves are a sign that it starting to go through this phase. It is ok to plant them now and in spring they will pop out of the ground and give you their show.
Q: Are these plants going to go on further sale or is there any room to negotiate on the price?
A: Most garden centers will play the weather game at this time of year and base their sales off of impending winter forecasting. The more plants that a garden center has and the closer to winter it gets the more they want to sell them. You can always wait it out to see if the prices go down but then you are taking the chances that the plants you want will not be available anymore. It doesn't hurt to ask that if you potentially purchase a larger quantity if there would be a bigger discount involved. If there isn't a deeper discount available you are still getting a great price on plant material that you would have been paying full price for come spring.
Q: Speaking of selection, I want to plant all of the same perennial in the blank spot in my garden but you only have three left of the type that I like. Can you get more for me and if so can I ask for a larger discount based on quantity for a special order situation such as this?
A: Most garden centers have to order in quantity with their respective growers and at this time most nurseries in colder climates are not bringing in anymore outdoor plants to sell. If a garden center is able to locate the plant you need from a grower it would have to be quite a large quantity in order for them to get it in for you at this time of year. Normally in a special order situation such as this deeper discounts will not apply because it is not current on the floor stock. You can normally have the reassurance that if you are purchasing a certain type of plant at a garden center that the same garden center will be able to get it in for you next season so you can complete filling in that empty space. A gardener's work is never done...